Sumisho Tekko Hanbai Co., Ltd. (Headquarters: Chuo-ku, Tokyo; President: Motokuni Murakami; "Sumisho Tekko Hanbai"), Nanao Industry Co., Ltd. (Headquarters: Zentsuji City, Kagawa Prefecture; President: Noboru Miyake; "Nanao Industry") and KURARAY KURAFLEX Co., Ltd. (Headquarters: Kita-ku, Osaka; President: Takashi Nakajima; "KURARAY KURAFLEX") today announced the joint development of YUKAPUCT,*1 a floor panel system with excellent soundproofing and shock absorption properties (joint patent pending). Sumisho Tekko Hanbai will handle sales.
The YUKAPUCT system will be on exhibit in the Kuraray booth (AC5341 in the East 6 hall) at the ARCHITECTURE + CONSTRUCTION MATERIALS 2011 to be held at Tokyo Big Sight from March 8 through 11, 2011.
*1

YUKAPUCT

is a registered trademark of Kuraray Co., Ltd.,
and is derived from yuka (Japanese for "floor") and the acronym for "Plus Universally Comfortable Technology."
Background of the Joint Development Effort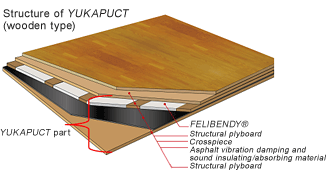 Noise from upstairs rooms is an issue for residents of both detached houses and apartment complexes and is mainly due to discrepancies in residents' schedules; reflecting changing lifestyles. Particularly among those wishing to purchase a two-family house, there is increasing concern about reliable soundproofing with regard to upstairs floors. Furthermore, due to the recent increase in the popularity of wooden floors over carpeting or tatami mats, noise from upstairs has become more noticeable. There is thus a pressing need to develop flooring with superior soundproofing.
In addition, along with the further aging of society, there has been an uptick in reported cases of elderly people accidentally falling at home and breaking bones or becoming unconscious. Wooden floors are slicker and harder than floors that are carpeted or covered with tatami mats and are therefore more likely to lead to physical damage in the event of a fall.
Addressing these issues, Sumisho Tekko Hanbai, which works toward the development of advanced structures for floors, turned to KURARAY KURAFLEX's FELIBENDY,*2 a special nonwoven fabric made through steam jet technology using high-speed steam heating that possesses such properties as shock and sound absorption, long-term durability and heat insulation. A proprietary technology developed by KURARAY KURAFLEX, steam jet technology is seeing an expansion in applications. In planning a multifunctional floor structure, Sumisho Tekko Hanbai looked into combining FELIBENDY with Nanao Industry asphalt vibration-damping and sound-insulation material*3 and suggested that the two companies undertake joint development.
*2

The world's first nonwoven fabric produced through steam jet manufacturing methods, KURARAY KURAFLEX's

FELIBENDY

enables the manufacturing of a wide range of nonwoven fabrics by bringing together such materials as Kuraray's propriety EVOH fiber and various manufacturing conditions. Nonwoven fabrics that are combined with EVOH fibers under high heat and high pressure can be processed into thick boards that feature superior functions, including air permeability; sound and shock absorption; and heat insulation.


FELIBENDY

is registered trademark of Kuraray Co., Ltd.

*3

Nanao Industry's asphalt vibration-damping and sound-insulation material is a high-performance vibration damping and sound absorbing sheet made from a mixture of quality iron powder and asphalt. Its ability to absorb sound is complimented by its light weight.
Overview of
YUKAPUCT
Characteristics

Excellent sound absorbing and shock damping properties
Panel structure enables a significant reduction in construction time as

YUKAPUCT

can be placed directly on the building's structural plywoodA wide variety of products is available for use with wooden and non-wooden floors
Flooring materials available in the marketplace can be placed directly on

YUKAPUCT

Size

Wooden floor type:

YUKAPUCT

92: 31mm thickness x 600mm width x 910mm length
Non-wooden floor type:

YUKAPUCT

156: 30.5mm thickness x 450mm width x 910mm length

Layout design fees

Wooden floor type:

YUKAPUCT

92: A set of 26 pieces (approximately 13.25m2): ¥20,000
Non-wooden floor type:

YUKAPUCT

156: A set of 26 pieces (approximately 9.94m2): ¥22,000

Marketing channel

Products will be distributed through the marketing agency Sumisho Tekko Hanbai to homebuilders and construction materials wholesalers nationwide

Sales target

¥1.5 billion in fiscal 2015

Roles of the three companies

Sumisho Tekko Hanbai: Planning and sale of

YUKAPUCT


Nanao Net: Production of

YUKAPUCT

and production and sale of asphalt vibration damping and sound absorbing material
KURARAY KURAFLEX: Production and sale of

FELIBENDY
Reference
Company overview
Sumisho Tekko Hanbai Co., Ltd.

| | |
| --- | --- |
| Headquarters | Harumi Triton Square Tower Z, 1-8-12, Chuo-ku, Tokyo |
| Representative | Motokuni Murakami, president |
| Capital | ¥310 million (100% Sumitomo Corporation) |
| Establishment | January 1981 |
| Principal businesses | Purchase and sale, import and export, and processing of steel and steel products, rail vehicles and their components, construction materials, and nonferrous metals and their products |
Nanao Industry Co., Ltd.

| | |
| --- | --- |
| Headquarters | 180 Konzoji-machi, Zentsuji City, Kagawa Prefecture |
| Representative | Noboru Miyake, president |
| Capital | ¥25 million |
| Establishment | September 9, 1949 |
| Principal businesses | Production and sale of construction and civil engineering materials |
KURARAY KURAFLEX Co., Ltd.

| | |
| --- | --- |
| Headquarters | Umeda Hankyu Building Office Tower, 8-1, Kakudacho, Kita-ku, Osaka City |
| Representative | Takashi Nakajima, president |
| Capital | ¥100 million (100% Kuraray) |
| Establishment | April 1, 2005 (established in 1972 under the previous name, Kuraray Chicopee Co., Ltd.) |
| Principal businesses | Production, processing and sale of nonwoven fabrics and nonwoven fabric products |
YUKAPUCT

's cross-section structure