Kuraray Co., Ltd. (Headquarters: Chiyoda-ku, Tokyo; President: Fumio Ito; "Kuraray") and Kuraray Trading Co., Ltd. (Headquarters: Kita-ku, Osaka; President: Hiroaki Yoshino; "Kuraray Trading") today announced that they have developed PYUAS the low temperature dyeable polyester filament, for which disperse dye(*1) can be applied at 105ºC, or 25ºC lower than existing types of polyester filament. PYUAS reduces the amount of CO2 emitted by the dyeing process by 20% yet is also a revolutionary polyester filament fiber, possessing color fastness and fiber strength comparable with conventional products. Intended for general clothing and non-apparel materials applications, including the sportswear and black formalwear sectors, sales are planned to commence in earnest from the 2012 spring-summer season.
Kuraray Trading has its sights firmly set on helping to bring to fruition a low-carbon society. Since fiscal year 2009, the company has been selling, among the products and services it offers under the Eco-Talk brand, items that are highly effective in reducing CO2 emissions and that assist in improving the environment. In addition to positioning PYUAS as a mainstay material under the Eco-Talk brand, Kuraray Trading intends to replace the polyester in all existing Kuraray Group products with PYUAS.
1. Major Characteristics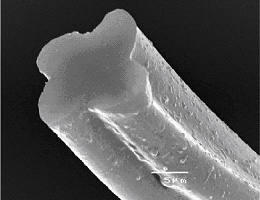 Magnified photo showing PYUAS yarn in the shape of a cross.
Utilizing Kuraray's proprietary polymer modification technology,

(*2)

dyeable at 105ºC, 25ºC lower than standard polyester fibers and textiles; compared with existing products reduces by 20% (Kuraray Trading measurement data) the amount of CO2 emitted by the dyeing process
Dyeable using general-purpose disperse dye, possesses same color fastness as standard polyester filament
Fiber strength comparable with standard polyester filament
Alkali weight reduction process can be applied,

(*3)

with possibility of development for fashion applications that call for a high textural feel
Production by high-speed spinning possible. During this process the amount of CO2 released will be on par with that for standard high-speed spinning of polyester filament
*1

Disperse dye is a type of synthetic dye most commonly used for polyester fibers.

*2

Polyester fibers and textiles are made from a polymerization reaction of terephthalic acid and ethylene glycol. Should modifications need to be made to those fibers, techniques are often used that involve the addition of a third component (co-monomer).

*3

Alkali weight reduction process introduces gaps in woven textiles, which in turn produces flexibility and fluffiness for textiles that offer a high degree of tactile sensation. This is becoming an indispensable technique in the production of clothing fabrics destined for fashionable women's garments.
2. Start of Production Date, Products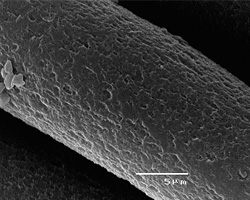 Magnified photo of PYUAS micro crater
Start of production date: First half of 2011 (planned)
Products: At the start of production, the following items will be given priority:
Three types of material polymers
Semi-dull, full dull and micro crater

(*4)

Two types of cross section
Round and in the shape of a cross
Two yarn thickness
84 decitex

(*5)

and 167 decitex.
*

Production is possible for bright, semi-dull, full dull and all other types, as well as conventional polyester filaments such as round cross sections, variable cross sections and yarn types of the same configuration.
*4

After mixing such materials as silicon dioxide into the fibers, numerous craters approximately 1 micron in diameter are formed on the fiber surface in a dissolving and removal process. This technique diffuses light to improve the deep tone of black formalwear.

*5

Unit to measure a fiber's thickness; 1 dtex is defined as the weight (1 gram) of 10,000 meters of yarn.
3. Major Development Sectors
General apparel (black formalwear, sportswear, uniforms, women's apparel, etc.)
For use as non-apparel materials (for automobile interiors, etc.)
4. Sales Targets
First fiscal year: 100 tons; after three years: 1,000 tons (original yarn equivalent volume)
5. Future Development
Positioning PYUAS as a mainstay material under its Eco-Talk brand, Kuraray Trading will aim to contribute to energy savings in the polyester filament dyeing process. The Kuraray Group aims to switch over its entire production and sales of polyester filament to PYUAS.
The URL below will open the Eco-Talk homepage
[Reference Materials]
PYUAS

Technical Overview

(1)

Utilizes disperse dye to enable dyeing under 105ºC conditions; can bring about a 20% reduction in the amount of CO2 emitted by the dyeing process (reduces electricity usage by 12%; heavy boiler oil by 20%; and water by 19%, 20% overall; all approximate measurements from Kuraray Trading data).

(2)

Possesses generally the same strength and elongation as existing products (Please refer to chart below; values from Kuraray Trading measurements)

Type of yarn
Strength (cN)
Elongation (%)

PYUAS

Semi-dull 175T48
false twisted yarn
585
32
Conventional product
Semi-dull 175T48
false twisted yarn
580
27

(3)

Production possible of all types of yarn with the same forms as existing polyester filaments, such as bright, semi-dull and full dull, round and other modified cross sections.