Kuraray Co., Ltd. (Headquarters: Chiyoda-ku, Tokyo; President: Fumio Ito; "Kuraray") today announced the expansion of PVA resin production facility at its European subsidiary Kuraray Europe GmbH (Kuraray's wholly owned subsidiary in Frankfurt, Germany; "KEG"). Details of the plant expansion are as follows.
Background of the Facility Expansion
In response to growing demand for PVA resin in European markets, Kuraray decided to expand production facilities to secure a stable supply system.
Overview of the Capital Investment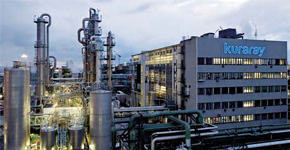 KEG's PVA resin production facility
Location
Frankfurt, Germany
Production capacity
Increase in production capacity from expansion: 24,000 tons/year
Current production capacity of existing facilities: 70,000 tons/year
Production capacity after completion: 94,000 tons/year
Capital investment
Approximately 58 million euros

*

Commencement of operations
The first quarter of fiscal 2013 (planned)
*

The amount of capital investment includes measures for energy optimization project.
Overview of KEG Kuraray Europe GmbH
| | |
| --- | --- |
| Company name | Kuraray Europe GmbH |
| Capital | 31,000,000 euros (100% investment by Kuraray) |
| President | Dr. Matthias Gutweiler |
| Headquarters | Frankfurt, Germany |
| Principal businesses | Manufacture and sale of PVA resin, PVB (polyvinyl butyral) resin and film; import and sale of fibers and textiles, chemicals, and dental materials |
| Employees | Approximately 600 |
Reference
1. About PVA resin

In 1950, Kuraray became the first in the world to develop PVA resin, which is used as a material for KURALON fibers. With its unique water-solvent properties, PVA resin is widely utilized in such items as paper processing agents, adhesive agents and fiber sizing agents. In addition, PVA resin has high market share worldwide thanks to its use in optical poval film, a basic component of LCDs.
Furthermore, PVB (polyvinyl butyral) resin made from PVA resin is used in paints, inks and binders in fine ceramics, while PVB film has been adopted for the manufacture of window glass for buildings and as an inter-layer in shatterproof safety glass for vehicles. In recent years, PVB film's applications have widened to include sealants for solar power generation panels.

Trademarks of products manufactured at KEG and sold are as follows

Products
Trademarks
PVA resin

MOWIOL

PVB resin

MOWITAL

,

PIOLOFORM

PVB film

TROSIFOL

,

TROLEN
2. Kuraray Group's annual PVA resin production capacity by region

Kuraray Okayama Plant/ Niigata Plant
124,000 tons
Kuraray Asia Pacific Pte. Ltd. (Singapore)
40,000 tons
KEG Kuraray Europe GmbH
70,000 tons

*

Total
234,000 tons

*

This figure is the current production capacity and will expand to 94,000 tons after the completion of facility expansion.