As a continuation of its corporate advertising campaign, Kuraray will air the newest episode in the "Mirabakesso" (*) TV commercial series on Saturday, December 25, 2010.
In the new "Travelling" episode, actress Riko Narumi is reunited with intriguing alpaca Kuraray-Chan, which has travelled around the world and returned after some time. Giving Kuraray-Chan's appearance a strong impression by having him dressed in a variety of ethnic costumes, the new episode continues to convey the message that Kuraray is a "unique global chemical manufacturer committed to contributing to the future."
The "Kuraray-Chan" appearing in this commercial is an alpaca named Mick, the third-generation Kuraray-Chan that is reprising its role in the previous episode of the Kuraray corporate commercial. In real life, too, Mick has met Riko again after a long interval.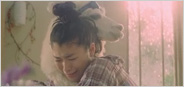 *

Derived from the campaign phrase "Mirai ni Bakeru Shinsozai" which can be literally translated as "new materials that transform into the future"
1. Summary of the TV Commercial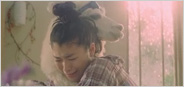 Kuraray-Chan returns on a suitcase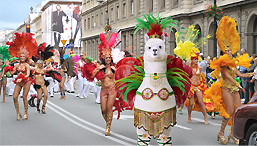 "Brazilsso!"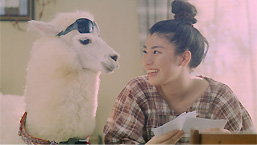 Riko Narumi laughs and smiles while looking at photographs with Kuraray-Chan.
Title
Kuraray Corporate Commercial "Travelling" Episode running as 15- and 30-second spots
Start of Broadcast
December 25, 2010 (Saturday)
TV Commercial Storylines
Mirabakesso "Travelling" episode
Kuraray-Chan the alpaca comes bouncing into the house on a suitcase.
Taken aback, Riko Narumi welcomes Kuraray-Chan.
Hugging Kuraray-Chan, Riko asks, "Where've you been?"
Then, a number of photographs of Kuraray-Chan in a variety of ethnic costumes appear: German costume, Mandarin gown and samba costume.
While dressed in each costume, Kuraray-Chan says either "Germanisso! Chinasso! Brazilsso!"
Looking at the pictures, Riko smiles at him.
"Kuraray is Kuraray no matter where you go in the world."
The two of them are in a warm, friendly mood in the living room in late afternoon.
Broadcast Schedule
(1)

TV programming (nationwide)

"World in One Second IV—Great Quest for Creatures in the Tokyo Bay, the Miraculous Sea" (special program broadcast in affiliation with TBS Corporation from 5:00 p.m. to 5:54 p.m. on Sunday, January 2, 2011)

"Gaia no Yoake" (Dawn of Gaia) (documentary program on economic subjects, broadcast in affiliation with TV Tokyo Corporation from 10:00 p.m. to 10:54 p.m. every Tuesday) from January 2011
(2)

Commercial Airing Locations

Kanto, Kansai, Niigata, Okayama, Kagawa, Ehime (Japan)
Saturday, December 25, 2010 to Monday, January 31, 2011
Production Staff
Production Company: LIGHT PUBLICITY CO., LTD.
Creative Director: Nobuyuki Miyadera
Director: Yoshinari Kamiya
TV Commercial Concept Developed by the Production Staff

Marking the fourth year of Kuraray's corporate ad campaign in 2010, the production staff planned a new commercial for the purpose of promoting the understanding of Kuraray as a "unique global chemical manufacturer committed to contributing to the future." With a spirit of "contributing to the world and individual well-being through actions that others are unable to produce," Kuraray is proud of its chemicals handling capabilities and has been introducing "Mirabakesso," that is, materials that transform into the future, to the global market. This commercial is intended to convey a strong impression by showing Kuraray-Chan, which has travelled around the world, in a variety of ethnic costumes. It is also intended to depict Kuraray Co., Ltd. that creates "Mirabakesso" around the world.
2. Behind the Scenes
The commercial was shot at the end of November in a Tokyo studio. An entrance hall and a living room were precisely recreated on the set, and all the staff members were excited about the filming. Around four months had passed since Riko Narumi and Mick, the third-generation Kuraray-Chan, had met to shoot the previous commercial. Closely resembling their real-life situation, the filming started with a scene in which Riko met Kuraray-Chan again after the latter had travelled around the world. For this scene, Riko had to hug Kuraray-Chan tightly for the first time. Staff members watched them anxiously, wondering whether Mick would be surprised and hoping that everything would go well. Their anxiety was, however, unfounded: Mick did not move at all, no matter how many times Riko hugged him. The alpaca keeper told us that Mick was usually very playful, but he was unexpectedly quiet at the filming. Perhaps he was too relaxed when in Riko's presence. Requiring several takes, Mick eventually showed good reactions. Thanks to wonderful straight acting on Riko's part and wonderful stray (?) acting on Mick's part, the filming ended successfully.
In this commercial, Kuraray-Chan appears in ethnic costumes from Germany, China and Brazil, where Kuraray operates business bases. Kuraray-Chan also appears in other ethnic costumes in the Company's campaign site; Riko's favorite is the Italian costume. We hope that many people will visit our site to enjoy seeing Kuraray-Chan all dressed-up.
3. Profile of Riko Narumi

Riko Narumi was born on August 18, 1992 in Yokohama City, Kanagawa Prefecture. She was cast in her first leading role in the drama "Ruri no Shima" in 2005. Her hobby is reading. She played her first starring role as a woman in the NHK series, "Sakuya konokata." "Bushido Sixteen" and "Shodo Girls-Our Koshien," in which she played leading roles, have also been released.
Her starring movie, "Shojotachi no Rashinban," is scheduled to be released in the spring of 2011.
4. About Alpacas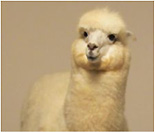 Mick, the third-generation Kuraray-Chan
Found mainly in South America, alpacas have been domesticated since the time of the ancient Inca Empire. They live on grass and moss and grow to reach approximately 2 meters in height and 50 kg in weight. Though hard to imagine from their cute, unique appearance that stays in one's mind at just one glance, they are very cautious and shy.
5. Purpose of the Ad Campaign
Kuraray was established in 1926 in Kurashiki City, Okayama Prefecture, as a manufacturer of rayon synthetic fiber. After succeeding in the commercialization of Japan's first PVA fiber, KURALON, based on technologies developed domestically, Kuraray has utilized the technology for poval, the material used in creating KURALON, to evolve into a specialty chemical company boasting the world's largest market share for many highly functional materials developed using the Company's own technology. These materials include: poval film, which is essential for LCDs used in televisions and PCs; EVAL, a resin distinguished by its excellent gas barrier properties; and CLARINO, a type of manmade leather used in school bags and other applications.
The Company currently aims to achieve sustained growth through the expansion of businesses providing solutions to global issues, such as new energy-related businesses, aqua businesses and environmentally friendly businesses , utilizing the technologies accumulated to date.
This corporate advertising campaign revolving around the television commercials has been conducted to support future growth and boost Kuraray's corporate brand value.
The catchphrase, "Mirai ni Bakeru Shinsozai," was chosen for exactly this reason, which is to show Kuraray's focus on the future progress of both people and the organization. We also tried to create an analogy between the potential of new materials and the potential of youth.