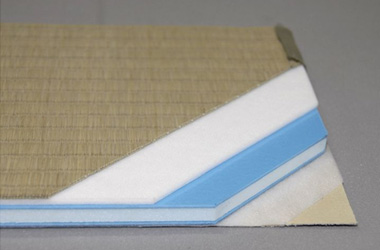 Dow Kakoh K.K. (Headquarters: Shinagawa-ku, Tokyo; President: Hideki Yano; hereinafter "Dow Kakoh") and KURARAYKURAFLEX Co., Ltd. (Headquarters: Kita-ku, Osaka City; President: Takashi Nakajima; hereinafter "KURARAYKURAFLEX") have jointly developed a new concept in thin tatami matting. Dow Kakoh will commence nationwide sales of the tatami matting under the product name SHINZO from January 1, 2011.
Although tatami is an inherent part of Japanese traditional culture, changes in the living environment have led to a shift from tatami matting to carpets and flooring, causing a contraction in the tatami market. Furthermore, reflecting the rapidly growing population of elderly, we are seeing advances being made toward realizing standardized barrier-free housing that has no differences in the floor height between rooms. Finishing tatami matting thinly and making it the same thickness as flooring materials has dispensed with the need to make cutouts to accommodate floor joists. Consequently, there has been accelerated demand for thin, functional tatami matting that conforms with the structural requirements of either Japanese- or Western-style rooms.
However, since the development focus of tatami matting was solely on making it thin, there was a resultant price to pay in terms of the original functions embodied in tatami, most notably the safety it offers with respect to falls (impact safety), its cushioning features and heat insulation properties. It would be no exaggeration to say that, were the original features that tatami possesses to be lost as a result, it would represent a betrayal of consumer expectations.

In response to these problems, Dow Kakoh utilized "STYROFOAM" extruded polystyrene foam boards, which provide excellent insulation while simultaneously reproducing the feel of the straw tatami mats to which Japanese people are accustomed. Dow Kakoh worked with KURARAYKURAFLEX on the product development of this thin tatami that provides users with a sense of reassurance. To bring this concept to fruition, Dow Kakoh leveraged the proven technology of the high-strength "STYROFOAM" utilized directly beneath bullet train tracks and underneath airport runways to develop high-density, high-strength "STYROFOAM" specifically for use with thin tatami. In order to realize improvements in bending rigidity throughout the manufacturing process, which had been impaired by making the foam thinner, high-strength plastic boards used in advanced composite materials were introduced. In addition, an interlining that maintains the durability and workability needed in thin tatami matting was developed through compounding with high-strength plastic boards used in advanced composite materials.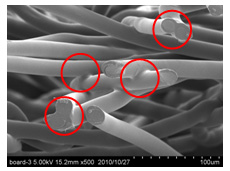 Photo of "DK Board" fiber structure
In the meantime, KURARAYKURAFLEX developed "DK Board" using FELIBENDY—a special nonwoven fabric that reproduces over long periods the straw tatami feel cultivated in the highly functional Karuzo Tatami—to create an improved special board that also features cushioning specifically intended for thin tatami. Bonded at all fiber intersections, FELIBENDY has a structure that retains that of a spring. Consequently, it cushions falls and enables improvements in durability.
In addition, composite materials have been used to improve the strength of the new SHINZO thin tatami matting. To lessen the environmental impact when eventually disposed of, thermoplastic resin is used in all of the tatami's major structural components with the exception of the string thread. This has made the product recyclable.
Structural Diagram of New
SHINZO

Thin Tatami Matting

New SHINZO thin tatami matting has been constructed with a composite interlining of Dow Kakoh's "STYROFOAM" sandwiched between plastic board as well as new-and-improved "DK-400" board, which has further enhanced KURARAYKURAFLEX FELIBENDY specifically for tatami flooring.

The characteristics of SHINZO are as follows:
Feel that is close to straw tatami

Reducing the burden on legs and hips, this product pursues lifestyle comfort through tatami.
Displaying superior shock-absorbing capabilities during falls, this product also helps prevent accidents in the home.

Durability

The strength of "STYROFOAM" having been improved by more than 30 percent, this product has improved the durability that was a problem with standard tatami mats.
Making a composite material featuring plastic boards encasing high-strength "STYROFOAM" has brought about enhanced bending rigidity.

Heat-insulation capacity

With a heat-insulation capacity three to four times that of straw, "STYROFOAM" endows thin tatami with the same heat-insulation capacity as 55mm-thick straw tatami.

Recyclability

The use of thermoplastic resin in all of the major structural components, with the exception of the tatami's string thread, reduces environmental impact when the product is disposed of.
From here on, Dow Kakoh and KURARAYKURAFLEX will make strides in developing new markets by leveraging the technological and product development capabilities of both companies.
*

"STYROFOAM" extruded polystyrene foam boards—which were developed by the U.S. corporation, The Dow Chemical Company—began to be produced in Japan in 1962 and have been the industry's top seller for over 40 years as a product synonymous with superior heat-insulation materials. Products that use "STYROFOAM" are known in the tatami industry by the name "STYROTATAMI."

*

The world's first nonwoven fabric produced through steam jet manufacturing methods, KURARAYKURAFLEX's

FELIBENDY

enables the manufacturing of a wide range of nonwoven fabrics by combining such materials as Kuraray's propriety

EVOH

fiber with various manufacturing conditions. Nonwoven fabrics that are treated with

EVOH

fibers under high heat and high pressure provide light and flexible construction materials for board frames that feature superior sound and heat absorption, thus capturing attention as an appropriate material for making tatami.
Sales route
Nationwide "STYROFOAM" tatami mat distributors to tatami stores
Retail price
¥21,000 per tatami mat (SHINZO tatami reference price includes manufacturing costs)
Sales targets
After five years: 300,000 tatami mats
(30% share of 1 million tatami mat market)
Note
300,000 tatami mats × ¥11,000 ¥3.3 billion
Overview of Dow Kakoh K.K.
| | |
| --- | --- |
| Headquarters | 2-2-24, Higashi Shinagawa, Shinagawa-ku, Tokyo |
| Representative | Hideki Yano, Representative Director and President |
| Capital | ¥2.3 billion (The Dow Chemical Company U.S. 65%, Sumitomo Chemical Co., Ltd. 35%) |
| Established | May 25, 1982 |
| Principal Businesses | Manufacture and sale of "STYROFOAM" extruded polystyrene foam boards |
Overview of KURARAYKURAFLEX Co., Ltd.
| | |
| --- | --- |
| Headquarters | Umeda Hankyu Building Office Tower, 8-1, Kakudacho, Kita-ku, Osaka City, Japan |
| Representative | Takashi Nakajima, Representative Director and President |
| Capital | ¥100 million (100% Kuraray) |
| Established | April 1, 2005 (established in 1972 under the previous name, Kuraray Chicopee Co., Ltd.) |
| Principal businesses | Production, processing and sale of nonwoven fabrics and nonwoven fabric products |
Notes
Dow Kakoh K.K. is in the process of registering

SHINZO

as a trademark.
"STYROFOAM" is a trademark of The Dow Chemical Company.

FELIBENDY

is a Kuraray registered trademark.