This year marks the 130th anniversary of the birth of Kuraray founder, Magosaburo Ohara, as well as the 80th anniversary of his founding of the OHARA MUSEUM of ART in Kurashiki.
The television program commemorating these events, which is presented by Kuraray, will be broadcast on RSK (Okayama/Kagawa districts) at 2:00 p.m. on November 23 (holiday) and on BS-TBS (BS Digital Hi-Vision) at 2:00 p.m. on December 12 (Sunday).
OHARA MUSEUM of ART brings together the artworks of many historically significant old masters, including Monet's Waterlilies and El Greco's Annunciation, and was the first museum in Japan to display western art.
How is it that paintings famous worldwide have been collected over the past 80 years in a town called Kurashiki?
The answer lies in Soichiro Ohara's pursuit of "creation and innovation" based on a vision that his father, Magosaburo Ohara, articulated as "Contributing to the World and Individual Well-being through Actions That Others Are Unable to Produce," as well as the influence of two artists, Torajiro Kojima and Shiko Munakata.
Well-respected artist and celebrity, Maako Kido, will take viewers on a journey of the museum's founding and development while showing its collection of renowned paintings. Please watch for it!
Overview of the Broadcast
Kuraray Special: OHARA MUSEUM of ART 80 Years of Creation and Innovation
Broadcast/Date
RSK (Okayama/Kagawa districts); November 23, 2010 (holiday), 2:00 p.m. – 2:54 p.m.
http://www.rsk.co.jp/ (Japnese language only)
BS-TBS (BS Digital Hi-Vision); December 12, 2010 (Sunday), at 2:00 p.m. – 2:54 p.m.
http://www.bs-tbs.co.jp/ (Japnese language only)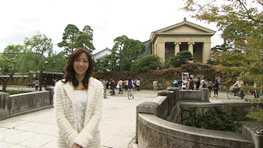 Maako Kido in front of the OHARA MUSEUM of ART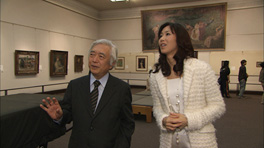 From left to right: Curator of the OHARA MUSEUM of ART, Kenichiro Ohara and Maako Kido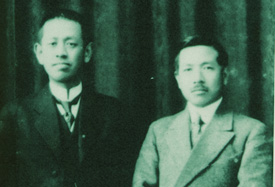 From left to right: Magosaburo Ohara and Torajiro Kojima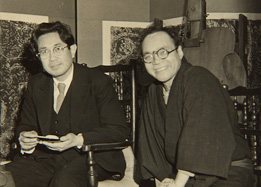 From left to right: Soichiro Ohara and Shiko Munakata
| | |
| --- | --- |
| Sponsor | Kuraray Co., Ltd. |
| Producer | Video Promotions Inc./Nikkei Visual Images, Inc. |