Kuraray's Niigata Plant participated in the "Niigata Afforestation Support Project (Japnese language only)" being promoted by Niigata Prefecture from the current fiscal year. Accordingly, the Niigata Plant began undertaking forest preservation activities in collaboration with Tainai City. In Niigata Prefecture, the "Niigata Afforestation Support Project (Japnese language only)" is being undertaken with the aim of assisting in the smooth implementation of afforestation activities through the conclusion of agreements between companies/organizations and landowners. Fully agreeing with Niigata Prefecture's idea of ensuring that forests continue to fulfill their dynamic role of absorbing CO2, generating oxygen, enriching soil and acting as watersheds in the future, Kuraray's Niigata Plant concluded an agreement at the Tainai City Hall on July 26, 2010.
As the first activity related to this agreement, approximately 50 people, including employees and their families, participated in forest thinning activities under the name, "Mirabakesso Forest," on July 31.
In addition, approximately 60 employees planted 100 saplings in area forests as this agreement's second activity on October 23.
Kuraray employees will conduct activities over the long term in order to ensure that Niigata forests remain areas of recreation for local residents.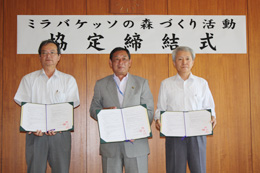 From left to right: the manager of Kuraray's Niigata Plant, the Mayor of Tainai City and the Niigata Prefecture Regional Development Bureau Chief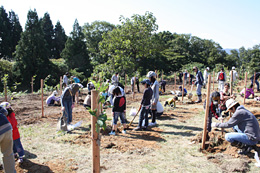 A view of saplings being planted