Kuraray Co., Ltd. today announces that Kuraray Asia Pacific Pte. Ltd.-a Kuraray subsidiary in Singapore functioning as an Asia-Pacific hub to oversee the Kuraray Group's regional activities-has expanded its sales office to strengthen business functions.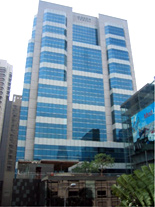 The Odeon Towers building that houses Kuraray Asia Pacific's sales office
Profile of Kuraray Asia Pacific Pte. Ltd.
Kuraray Asia Pacific was established in July 2008 through the integration of POVAL ASIA PTE LTD., a manufacturer of polyvinyl alcohol (PVA) resin (brand name:

KURARAY POVAL

), and Kuraray Specialities Asia Pte., Ltd., a PVA resin sales and marketing company.
In addition to its PVA resin manufacturing and sales functions, Kuraray Asia Pacific has expanded its sales function for polyvinyl butyral (PVB) resin;

EVAL

gas barrier resin;

SEPTON

thermoplastic elastomer;

KURALON

synthetic fiber (used in many industrial applications, including as an asbestos alternative); and

VECTRAN

high-strength polyarylate fiber.
Kuraray Asia Pacific is currently serving as a hub to oversee the Kuraray Group's activities in the Asia-Pacific region.
Background of Office Expansion
Kuraray aims to expand its vinyl acetate business in the rapidly growing Asia-Pacific region. (In addition to its established PVA resin business in the region, Kuraray has put in place expatriate employees dedicated to

EVAL

sales activities.)
Kuraray is promoting the development of its water treatment business in Singapore-a country that is becoming a center for the accumulation and dissemination of information relating to this business-through such means as the dispatch of expatriates.
Kuraray Asia Pacific is planning to develop the PVB film business and business for other products that it has not yet handled.
Overview of Sales Office
The office is located on the 18th floor of Odeon Towers in a city area of Singapore.
Kuraray Asia Pacific began operation in the expanded sales office in April 2010.
Floor area before extension: Approx. 1,800 square feet
Floor area after extension: Approx. 3,000 square feet
Overview of Kuraray Asia Pacific Pte. Ltd.
Company name
Kuraray Asia Pacific Pte. Ltd.
Capital
US$27,775,000 (Kuraray 100%)
President
Shinzo Takemura
Address

| | |
| --- | --- |
| Head Office | 10 Sakra Avenue Singapore 627887 |
| Sales Office | 331 North Bridge Road, #18-02 Odeon Towers, Singapore 188720 |

Businesses
Production of PVA resin
Sale of PVA resin and other Kuraray Group products in the Asia Pacific Region
Production facilities
PVA resin production facilities: 40,000 tons/year
Employees
77