KURARAYKURAFLEX Co., Ltd., engaged in the manufacturing, processing and sale of nonwoven fabrics and nonwoven fabric products (Representative Director and President: Takashi Nakajima) and SEKISUI CHEMICAL CO., LTD. Housing Company (President: Teiji Kouge) have jointly developed "THERMOBARRIER", sliding paper door sheets with superior heat insulation/heat barrier properties. A joint patent application for the new product is in process.
Initially seeking to expand applications for its special nonwoven fabric, FELIBENDY, by using a steam jet (high-speed steam heating) manufacturing process, KURARAYKURAFLEX commenced R&D into applications for components for use around openings in homes in collaboration with SEKISUI CHEMICAL Housing Technology Institute (hereinafter "Housing Technology Institute"). The research focused on FELIBENDY's superior capabilities, including heat insulation, translucency, texture and strength. Approximately two years later, "THERMOBARRIER" sheets for sliding doors were developed, targeting existing housing.
"THERMOBARRIER" will be showcased at the 16th annual ARCHITECTURE + CONSTRUCTION MATERIALS 2010exhibition, to be held at Tokyo Big Sight, starting March 9 (Kuraray booth number: AC5192).
*

FELIBENDY

is a Kuraray registered trademark, the trademark application for

"THERMOBARRIER"

is currently being processed for SEKISUI CHEMICAL.
Overview of
"THERMOBARRIER"
Features

Effectively cuts sunlight in the summer (absorbs 28% of the heat from summertime sunlight; standard paper used in sliding doors: 46%

*

)

*

Percentage of the window inflow of radiant solar heat within rooms based on evaluation results from public rating agencies and absorption rates of indirect sunlight and solar heat. When this percentage is low, thermal barrier capability is high.

Effectively retains indoor heat and acts as a barrier against cold air near windows during winter
Features superior translucency, is three times brighter than standard heat insulation sheets for paper doors and distributes soft light throughout the room, just like standard paper used in sliding doors
Easily replaceable using double-sided adhesive tape attached to existing sliding-door frames
Capable of being cut using household scissors, making measurement adjustments easy
Over 10 times stronger than standard sliding-paper doors (rupture strength: JIS P 8112), this product does not rip easily, making it easy to care for by wiping with a dry cloth

Size

850 x 1770 x 2mm

Reference retail price

Two sheets per box: ¥4,900 (includes double-sided adhesive tape)

Sales targets

First year: 2,000 sets; 2015: 20,000 sets
Internet-Based Sales
Sales of "THERMOBARRIER" will commence on April 1, via the Harmonate Shopping Club,* which is managed by Sekisui Heim Supply Co., Ltd. This company supplies top-condition components (including door knobs and rollers) as well as refurbishing components used in Sekisui Heim residences. Harmonate Shopping Club is an online shopping service that sells products for everyday convenience and residential maintenance. This website is accessible to all, not just those who have purchased Sekisui Heim residences.
Overview of Joint Development
1. Features of
FELIBENDY

Special Nonwoven Fabric

KURARAYKURAFLEX's FELIBENDY was the first fabric in the world to incorporate steam jet technology. By combining materials such as Kuraray's proprietary EVOH fiber and various production applications, it is possible to produce a wide array of nonwoven fabrics. Nonwoven fabrics produced by processing EVOH under high pressure and temperature conditions make it possible to process FELIBENDY into thick boards.
2. Wide Range of Applications for
FELIBENDY
Possessing a wide array of functions, including air permeability, sound and shock absorbency, heat insulation and elasticity, FELIBENDY is used in various applications-such as bandages, underwear, athletic supporters and automobile interiors-that take advantage of its unique properties.
3. Sekisui Chemical's pursuit of technological prominence and differentiated product development
Standing by its corporate motto of providing "environmentally friendly housing for safe and comfortable living for at least 60 years," SEKISUI CHEMICAL Housing Company has devoted itself specifically to the development of environmental technologies. Focusing on FELIBENDY's superior capabilities, SEKISUI CHEMICAL Housing Company-which develops environmentally friendly housing components-came together with KURARAYKURAFLEX, which sought to broaden applications for FELIBENDY, to commence the joint development of "THERMOBARRIER".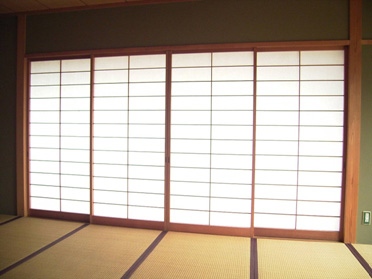 Sliding paper doors using "THERMOBARRIER"
【Reference】Heat-Insulation Effect of "THERMOBARRIER", the New Sheet for Sliding Paper Doors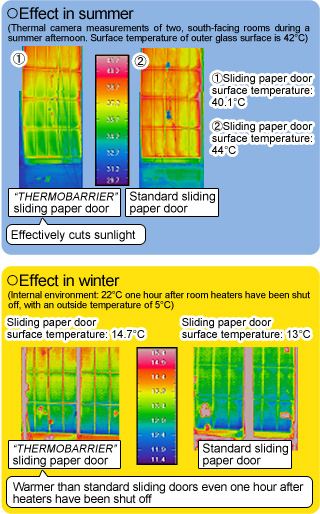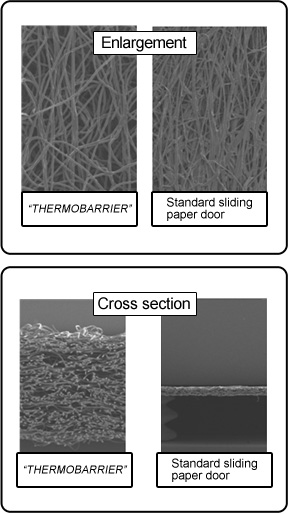 Layer containing a large amount of air reduces heat
*

Photographs measuring effects in winter and summer provided by Housing Technology Institute

*

Standard sliding paper doors are commonly composed of pulp, rayon and

KURALON
KURARAYKURAFLEX CO., LTD. Overview

| | |
| --- | --- |
| Headquarters | Shin Hankyu Building, 1-12-39, Umeda, Kita-ku, Osaka 530-8611, Japan |
| Representative | Takashi Nakajima, Representative Director and President |
| Capital | ¥ 100 million (wholly owned by Kuraray) |
| Established | April 1, 2005 (first established as Kuraray Chicopee Co., Ltd. in 1971) |
| Principal business | Manufacture, processing and sale of nonwoven fabrics and nonwoven fabric products |
SEKISUI CHEMICAL CO., LTD. Overview
Headquarters
2-4-4 Nishitenma, Kita-ku, Osaka
Representative
Naofumi Negishi, Representative Director and President
Capital
¥100 billion
Established
March 3, 1947
Principal businesses

(i)

Production and sale of high-performance, resin-related products for the automotive, electronic material, medical and other fields

(ii)

Production and sale of water supply and drain pipe materials, housing-related and functional materials

(iii)

Production and sale of unit housing; operation of refurbishing business