Kuraray-which produces and sells CLARINO, the man-made leather that is an important material used in making school bags-in concert with the Japan Luggage Association/Randoseru Industry Association (an assembly of school bag manufacturers), held the second "Randoseru (School Bag) Treasure Box" event on Sunday, December 13. The purpose of this event was to once again acknowledge the value of and encourage the growth of children via the school bag.
This year's event began with a recital led by elementary students known as "super kids," who have special abilities in such areas as dance, ping pong and comic storytelling that put adults to shame. This was followed by a randoseru (school bags) fashion show for elementary school children, a school bag fashion show for older students and the presentation of randoseru as gifts to first-year elementary school students. The showcasing of the "Randoseru Crosses the Sea" campaign rounded off the packed program of events that graced the stage.
The Second Randoseru (School Bags) Treasure Box Event was brought to a close with an appearance by Kuraray-Chan-the alpaca featured in the Company's television commercials-which produced a moment of endearing congeniality.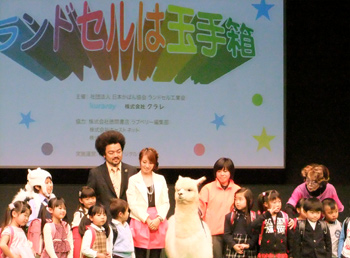 The alpaca Kuraray-Chan surrounded by event participants
Event Location
Marunouchi Building Hall, Marunouchi, Chiyoda-ku, Tokyo
Sponsored by
Japan Luggage Association/Randoseru Industry Association
Kuraray Co., Ltd.
In partnership with
The editing department of Tokuma Shoten Publishing Co., Ltd.'s magazine, Loveberry, Cast Net, BeBe
Event coordinated by
Digitalrise, Inc.