Chemical manufacturer Kuraray Co., Ltd. (Headquarters: Chiyoda-ku, Tokyo; Kita-ku, Osaka; hereafter, "Kuraray") decided to participate in Osaka Prefecture's Adopt-a-Forest Gojo* "Ikoma Mountain Range Flower Folding Screen Activities," signing an agreement with Osaka Prefecture, Higashiosaka City and the forest owner on December 3. On December 12, 32 employees and family members from Kuraray's Osaka headquarters planted mountain cherry tree seedlings.
Kuraray Fureai Fund Raising** donated the seedlings to the fund and employees and their families planted them as part of Kuraray's social contribution activities.
At the end of these tree-planting activities, a prayer was offered for the healthy growth of the planted trees and a card containing a personal message from each participant created. According to feedback given by one participant, "The work was harder than I'd expected, but I feel a sense of accomplishment."
Kuraray will continue these activities to help nurture forest creation and an awareness of the environment among its employees.
Tree planting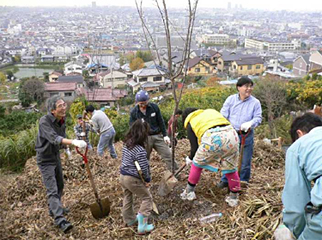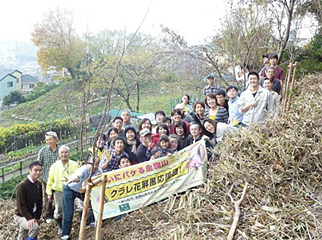 *

Adopt-a-Forest Gojo

To ensure biodiversity and prevent global warming, since 2005, Osaka Prefecture has been obtaining corporate participation and implementing its "Adopt-a-Forest" program for promoting broadleaf tree planting in devastated forests, including neglected man-made forests and bamboo forests. In 2009, Kuraray launched its Adopt-a-Forest Gojo "Ikoma Flower Folding Screen Activities." With the cooperation of prefectural residents this massive 15-year project plans to make the Ikoma mountain range resemble a Japanese folding screen through the planting of 10,000 flowers and trees that produce beautiful flowers, as well as trees that display stunning autumn foliage.
Kuraray was the very first company to participate in this project.
Higashiosaka City's Gojo district is known as a historic region where the remains of ancient human activity, including the Gojo Mounds, have been found.

**

Kuraray Fureai Fund-Raising (Matching Gift)

Since July 1992, Kuraray has engaged in a matching gift program by which employees donate a small fraction, less than ¥100, of their pay to benefit community social services, and the company matches the amount. The accumulated funds are used to promote community social welfare by, for example, donating goods to social service organizations.