Kuraray Co., Ltd. today announced the development of a new hard acrylic film using its polymer synthesizing and alloy manufacturing technologies to curb whitening.
Acrylic films boast excellent transparency, weather resistance and scratch resistance. Given such characteristics, annual global sales are anticipated to be approximately 5,000 tons, mainly for use as reinforced weather-resistant film and decorative film. In addition, the demand for acrylic film is increasing approximately 5% every year (Kuraray estimation).
The SO Film (tentative name) is a new hard acrylic film developed in combination with Kuraray's accumulated polymer synthesizing and alloy manufacturing technologies. Conventional acrylic film maintains its durability during processing into film by addition of the fine particle of the core-shell (rubber) that features controlled flexibility. However, the fine particle of the core-shell blended in acrylic film causes lower transparency due to irregularities on the film surface and bleaching in the deforming, heating, and hygrothermal processes, as well as lower rigidity due to the blending in of soft rubber. Although SO film is free from rubber, this new hard acrylic film boasts toughness(*) and tearing resistance superior to conventioal (rubber-based) acrylic film, together with high transparency (lower haze ) and rigidity. In addition, this product helps to prevent whitening.
*

Toughness

The amount of energy required to pull a film until it is broken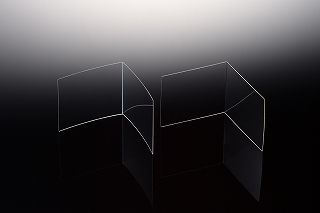 Right: SO Film, Left: Rubber-based acrylic film
The bent part of the left film is whitened compared
with the right film
Based on characteristics such as high toughness and resistance to whitening from stress, SO Film can be applied to deep-draw molds. Therefore, through the promotion of further product and market development activities, Kuraray anticipates the possibility of wide applications for this new hard acrylic film, including use as decorative film for automobiles and for electronic appliances such as mobile phones and laptop computers as well as construction materials. In addition, Kuraray is engaging in development activities in anticipation of future optical applications for SO film, given its homogeneous characteristics.
Kuraray plans to introduce SO Film at its booth (No. 2C-04) at INCHEM TOKYO 2009, to be held at Tokyo Big Site from November 18-20, 2009.
1. What is SO Film?
SO Film is a new hard acrylic film made from polymer developed with Kuraray's proprietary polymer synthesizing and alloy manufacturing technologies.
2. Features
With excellent toughness and tearing resistance to withstand various film-manufacturing processes, the new hard acrylic film provides the following features, which are superior to existing rubber-based acrylic films:
Good surface properties
Low haze (high transparency)
Excellent surface hardness and rigidity
High resistance to whitened by stress
Physical Characteristics of SO Film (Comparison with Other Acrylic Films)
SO Film

Rubber-based film
Acryl
Transparency (125µm thickness)
  Haze (%)
  Visible light transmission (%)

0.2
92.4

0.6
92.2

0.1
92.5
Rigidity
  Tensile modulus (MPa)

3200

2600

3300
Toughness
  Film rupturing energy (J/m2)

2.1

0.3

0.1
Tearing resistance
  Maximum tearing resistance (N/mm)

70

42

25
Stress whitening
  Visual inspection of flexure

Almost no whitening

Whitened
-
Ruptured
*

Above data is representative value and not guaranteed value.
Surface Smoothness (AFM observation)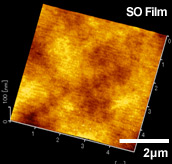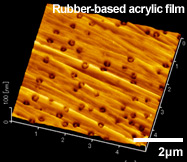 3. Assumed Application
Decorative film

(automobile interiors/exterior parts, electronic products such as mobile phones and laptop computers, construction materials)

Reinforced weather-resistant film

(construction materials)

Optical-use film

(display components)