Kuraray Co. Ltd. has thus far developed and marketed the SEPTON V Series and the SEPTON Q Series within its SEPTON and HYBRAR families of high-performance, highly functional thermoplastic elastomer products. To enhance and reinforce its lineup, Kuraray has now developed the SEPTON K Series which features superior bondability to glass and metal.
Like a number of other plastic products, SEPTON and HYBRAR hydrogenated styrenic thermoplastic elastomers can be easily molded; however, they are also characterized by rubber-like elasticity and are widely replacing vulcanized rubber as a soft molding material. Currently, annual demand for hydrogenated styrenic thermoplastic elastomers in the global market amounts to 120,000 tons and is expanding by approximately 7% per year (Kuraray estimate).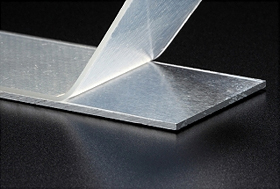 SEPTON K Series Sheet
Combining Kuraray's accumulated polymer synthesizing technologies, the newly developed SEPTON K Series material represents a new concept in elastomeric materials. Existing products require pretreatment with primer to obtain the bondability needed for use on glass and metal. However, the SEPTON K Series can be directly injection molded or extruded onto glass or metal without pretreatment, achieving excellent bondability while retaining the advantages of a thermoplastic elastomer.
Thanks to its excellent bondability the SEPTON K Series is a revolutionary molding material that enables faster production and a high degree of freedom in product design, particularly in such fields as automotive, electric and electronics, and other glass-related components. Pursuing further advances in product and market development, Kuraray expects this product to enter the film, sealant, coating and adhesive fields.
Kuraray is accelerating global applications development by commencing SEPTON K Series marketing simultaneously in Japan, Americas, Europe and Asia, with a view of expanding its elastomer business. This innovative material will become the heart of a new core line of products.
Kuraray plans to showcase the SEPTON K Series at FAKUMA 2009, the international trade fair for plastics processing. This show is being held at the Friedrichshafen Exhibition Center in Germany from October 13–19, 2009.
1. The
SEPTON

K Series

Developed by combining Kuraray's accumulated polymer synthesizing technologies, the SEPTON K Series is an innovative, high-performance thermoplastic elastomer.
2. Characteristics
May be used for injection molding or extrusion like existing thermoplastic elastomers
Has the same lightness/density, plasticity, rubber-like elasticity, mechanical properties and low-temperature characteristics as existing thermoplastic elastomers
Possesses superior bondability that negates the need for primer or other pre-treatment
Possesses superior bondability to glass, all types of metals including light metals like aluminum and magnesium alloys
Displays good, wide-ranging bondability, to both polar resins and nonpolar resins
SEPTON

K Series Representative Properties and Bondability with Glass and Metal
Unit

SEPTON

K Series
(Development Product/ Temporary Name: KM079)
Existing Styrenic Thermoplastic Elastomer
Hardness(Type A)
50
58
Bondability
Glass
N/25mm
128
<1
Aluminum
N/25mm
129
<1
Magnesium alloy
N/25mm
125
3
Press molding: 240deg C, 2MPa, 3min.
Note: The above values are representative and not guaranteed
3. Potential Applications
Auto parts

Window glass and mirror weather-stripping, body and chassis components, electric components

Housing and construction related

Window glass weather-stripping

Electric and electronic components, energy-related materials

Solar cell materials
Mobile phone, flat-screen TV, computer and digital device materials
Other materials around metal enclosures and glass displays