Kuraray has identified key management initiatives under its new GS-Twins medium-term action plan. One of these initiatives calls for the creation and expansion of new businesses in environmental and other fields through technological innovations. To accelerate toward the accomplishment of this goal by leveraging the collective strengths of the Group, Kuraray established an Environmental Business Development and Promotion Division in April 2009. With this new division as the core driver, the Company is working to achieve the strategic expansion of its water treatment business.
In February 2008, as part of organizational strategies, Kuraray established Kuraray Aqua Co., Ltd. - a joint venture to provide total water treatment systems and services - with Nomura Micro Science Co., Ltd. ("Nomura Micro"). On July 15, 2009, Kuraray underwrote new Kuraray Aqua shares issued on the same date through a third-party allotment, with the aim of making it clear that Kuraray has taken the initiative in the management of the joint venture's operations, assumes responsibility for business promotion and thereby is reinforcing the water treatment business.
The following table briefly describes the capital increase undertaken by Kuraray Aqua. As shown in the table, Kuraray now holds an 82% stake in Kuraray Aqua.
| | Capital | Equity stake |
| --- | --- | --- |
| Before capital increase | ¥100 million | Kuraray side: 55%; Nomura Micro: 45% |
| After capital increase | ¥250 million | Kuraray: 82%; Nomura Micro: 18% |
note:The capital 250 million yen "after capital increase" contains the capital reserve 75 million yen.
Meanwhile, Kuraray is strategically promoting the water treatment business through the aggressive development of new products and the pioneering of new markets on a global scale. Recent achievements based on these efforts are as follows.
1. Development of New Polyvinylidene-Fluoride (PVDF) Hollow-Fiber Membranes Completed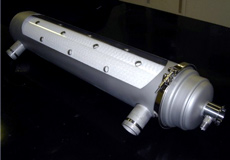 PVDF hollow-fiber membrane (inside containment tube) for water systems
Kuraray succeeded in the development of hollow-fiber membranes based on hydrophilized PVDF, which boasts higher strength than conventional hydrophilized polysulphone (PSF). The Company plans to begin the sale of the new PVDF hollow-fiber membranes in autumn 2009.
Features of Kuraray's New PVDF Membranes

(1)

Due to a membrane lineup with wide-ranging pore diameters - from 0.02 to 2.0 micrometers - the new PVDF membranes can be used to filter various types of liquid.

(2)

Hydrophilized membrane effectively prevents impurity adsorption, allowing for improved liquid permeation through the membrane. This feature consequently enables higher liquid treatment efficiency compared with conventional membranes.

Sales Targets

Through collaborative marketing activities between its Environmental Business Development and Promotion Division and Kuraray Aqua, Kuraray aims to achieve ¥5.0 billion in sales of the new PVDF membrane in three years.
2. Trial Operation of Water Treatment System in Singapore Commenced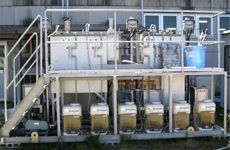 Water treatment system for trial operation (at Saijo Plant)
Kuraray is working to expand its wastewater treatment business worldwide, particularly in Southeast Asia. As part of efforts to this end, the Company commenced trial operation of a wastewater treatment system, which uses its proprietary polyvinyl alcohol (PVA) gel materials, in Singapore - the country that it recognizes as a strategically important location for its global water treatment business.
Kuraray will accelerate activities aimed at strategically expanding its water treatment business to record net sales totaling ¥50.0 billion in this business in fiscal 2015, ending March 31, 2016. Through the promotion of water recycling and other environmental initiatives, Kuraray will contribute to the transformation of today's mass-production/consumption society into a recycling-oriented society.
Reference
Overview of Kuraray Aqua Co., Ltd.

| | |
| --- | --- |
| President | Kuraray Aqua Co., Ltd. |
| Location | 3-2-17 Nihonbashi Muromachi, Chuo-ku, Tokyo |
| President | Hidekazu Ito |
| Principal businesses | Sales of water purification membranes, design, manufacturing, installation, sales, and after-sales maintenance of plants both in Japan and overseas |
| Establishment | February 2008 |
| Purpose | To meet various needs in the globally expanding markets of water purification systems, sewage treatment and recycling facilities through the integration of Kuraray's water purification technology based on high-polymer hollow-fiber membranes and PVA gel materials with the engineering technology that Nomura Micro has developed as an extra-pure-water production system manufacturing and sales company |