Kuraray Trading Co., Ltd. (Headquarters: Osaka City, President Osamu Asaba) announces the development of "ammonia odor-dissipating sheets" and "thermal barrier sheets" for barns, which will be released in June 2006.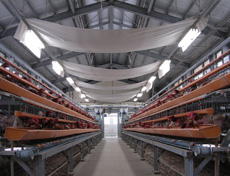 "Ammonia Odor-Dissipating Sheets" after being installed in a chicken coop
Given that the smell of ammonia in such structures as barns (housing horses, cows, pigs and chickens) can be severe is one reason why workplace environments in the farming industry is considered to be difficult, dirty and dangerous. Consequently, there is a pressing need to alleviate physical fatigue and the loss of operational efficiency, whether it is during seasons with severe heat or extreme cold. In addition, problems have surfaced that include cases of pollution related to odors leaking to surrounding residences and ammonia odors causing mental and physical stress.
"Ammonia odor-dissipating sheets" provide long-lasting, odor-eliminating effectiveness by repeatedly absorbing and breaking down ammonia molecules. Two agricultural high schools evaluated this product by attaching these sheets to barn ceilings, deeming them as products that will "reduce ammonia odors, decrease the stinging of the eyes and nose and thus increase operational efficiency after being installed."
Furthermore, testing conducted by outside institutions indicates that this product effectively reduces ammonia density from 11ppm to 0.5ppm over a 24-hour-period.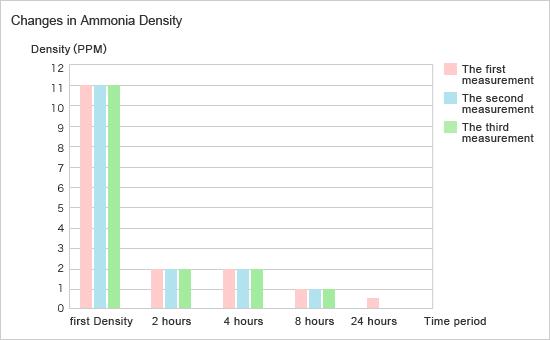 Testing method
JAFET Standard Testing Method
A detector tube is used to measure gas density after 2, 4, 8 and 24 hours
Testing environment
placement inside a drying apparatus at 30°C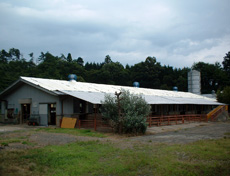 "Thermal Barrier Sheets" after being installed over a pigpen
At the same time, "thermal barrier sheets" are effective at reflecting extreme radiant heat during the summer when placed on the roofs of such structures as cow barns. Maintaining the cool temperatures of barns is a major issue, given that such problems as a decrease in the amount of milk pumped and lower meat quality are related to the poor physical condition of cows and pigs during the summer due to their weak ability to perspire. Simply attaching "thermal barrier sheets" to barn roofs can lower internal temperatures during the summer by 3°C to 5°C degrees centigrade, making it possible to reduce air conditioning costs and CO2 emissions related to the use of air blowers to reduce barn temperature. In addition to possessing a high degree of strength due to its base fabric consisting of materials made from 100% polyester, "thermal barrier sheets" are stain resistant and have long-lasting thermal barrier effectiveness owing to the polyvinylidene-fluoride (PVDF) treatment of their surface.
During experiments held outdoors, despite having a design that allow wind to blow through, temperatures dropped by a maximum of approximately 3.8°C under the roofs owing to the placement of "the thermal barrier sheets". (Results of experiments conducted at agricultural high school pigpens)
Kuraray Trading, as the core trading company of the Kuraray Group, obtained the ISO14001 standard in 2005 in order to contribute to global environmental preservation. In addition, Kuraray Trading has established its own independent standard that includes the reduction of CO2 emissions in relation to the products and services it provides in order to expand its environmental initiatives.
"Ammonia Odor-Dissipating Sheets" and "Thermal Barrier Sheets" are appealing products due to their usefulness in improving the work, living and other environments.
Ammonia Odor-Dissipating Sheets
Thermal Barrier Sheets
Features

Improves the environment
Strong and lightweight
Long-lasting effectiveness
Increases operational efficiency

Effectively decreases internal temperatures by 3°C to 5°C in the summer when placed on roofs
Reduces CO2 due to lower internal temperatures
Stain-resistant properties due to PVDF surface treatment
Long-lasting thermal barrier effectiveness

Application

Deodorant sheets for barns through the use of a mesh that breaks down ammonia odors

Thermal barrier sheets for cooling barn temperatures

Specifications

Width and height: 186cm×50m
Mass: 430g/m2

Width and height: 103cm×50m
Thickness: 0.47mm
Mass: 560g/m2

Suggested retail price
Sales targets

Initial fiscal year: ¥20 million
After 3 fiscal years: ¥100 million

Initial fiscal year: ¥20 million
After 3 fiscal years: ¥100 million
Overview of Kuraray Trading Co., Ltd.
| | |
| --- | --- |
| Headquarters | 1-12-39 Umeda, Kita-ku, Osaka City (Shin Hankyu Building) |
| President | Osamu Asaba |
| Capital | ¥2.2 billion |
| Number of employees | 321 (as of March 31, 2009) |
| Business activities | A specialized manufacturing trading company of the Kuraray Group that provides a full range of services related to the manufacture and sale of raw materials, textile materials and products. It responds to a diverse array of market needs through comprehensive services that engage in product-related information and the planning and development of distribution and sales systems. |