Kuraray Co., Ltd. (headquarters: Chiyoda-ku, Tokyo; President: Fumio Ito) today announced the development of an energy-efficient and slim light guide panel for LED sign boards featuring an edge-light system (ELS). The product will be commercialized on May 15, 2009, through sign makers nationwide.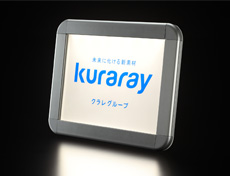 The ELS Light Guide Panel
The new product is an ELS acrylic light guide panel for sign boards that use LEDs as the luminous source. Compared with the direct-illumination type fluorescent signboards now used extensively, this product is significantly thinner while offering even light emission over its entire surface. Moreover, as it cuts power consumption—an eco-friendly feature—it is also effective at reducing running costs. When the light source is attached to both sides of the board, the panel is effective for a length of up to 1,500mm. The product can be used in signboards as large as 1,500mm × 2,300 mm.
Kuraray offers two types of panel: A brighter 9mm type for large signboards or billboards and a thinner and lighter 6mm type for hanging signs and posters.
In addition to the original lineup, Kuraray will leverage its unique production system to respond to custom orders ranging from a one unit minimum to the maximum prescribed size without charging for the initial cost of making a customized mold.
The product comprises an acrylic light guide panel and reflection sheet. The light emitted from LEDs fixed at the sides of the panel travels in a controlled manner through the interior of the light guide panel and is evenly radiated through the diffusion sheet that constitutes the panel's surface. The attachment of an advertising board to the face of the diffusion sheet transforms the panel into an LED sign board.
Reflecting the industry-wide trend toward eco-friendly products, the sign and billboard industry is also shifting from fluorescents to energy-efficient LEDs.
Responding to this trend, Kuraray leveraged its optical design and high-precision processing technologies cultivated in the development of optical-use screens and DVD stampers to achieve this light guide panel technology. With this new panel, Kuraray will contribute to the promotion of LED panels with low environmental burden.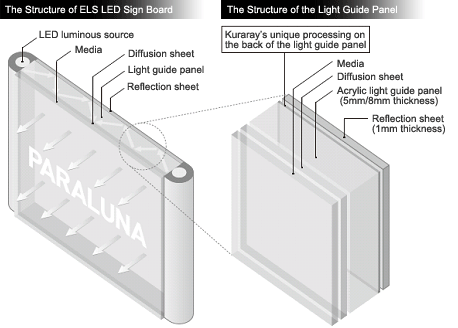 Features of the ELS Light Guide Panel for LED Sign Boards
(1)

This acrylic light guide panel enables the realization of thinner sign boards by limiting the attachment of luminous sources to the edges of panels.

(2)

Because it evenly radiates the light supplied along its edge over its entire surface, the panel does not have the patchy appearance of existing direct-type fluorescent sign boards.

(3)

With a luminous source on both sides, the product delivers even light emission for a length of up to 1,500mm. This technology enables large sign boards of up to 1,500mm × 2,300 mm. Kuraray will fill any custom orders for products that fall within this scope.

(4)

Single-part production is realized without the initial cost of making a customized mold. The Company will accept minimum orders of one unit.

(5)

5. The following options for product combinations are also available for various customer needs.

(i)

Acrylic light guide plate + diffusion sheet

(ii)

Acrylic light guide plate + diffusion sheet + LED modules

(iii)

Finished LED sign board using acrylic light guide plate (acrylic light guide plate + diffusion sheet + LED modules + frame)

(6)

By using LEDs as the luminous sources as well as using this acrylic light guide plate to reduce the number of LEDs needed, Kuraray has achieved lower energy consumption and running costs. The product can also reduce maintenance costs as LEDs have longer life than fluorescents.

(7)

The product can reduce CO2 emissions by consuming less energy than direct-illumination type fluorescent sign boards. Sign boards made using this panel are environmentally friendly thanks to the use of mercury-free LEDs.
Product Overview
Application
Maximum Size/Thickness
Composition
G type
Billboards, station sign boards and information boards at commercial facilities
Maximum size: 1,500mm × 2,300mm
Thickness: 9mm
Acrylic light guide plate, reflection sheet
S type
Hanging signs, sign boards, POP advertising, in-store menu boards and interior accessories
Maximum size: 1100mm × 1465mm
Thickness: 6mm
Acrylic light guide plate, reflection sheet
Products Custom-Made Sales Styles
Product Composition
Type for Application
Sales pattern 1
Acrylic light guide plate + diffusion sheet
G type, S type
Sales pattern 2
Acrylic light guide plate + diffusion sheet + LED modules
G type, S type
Sales pattern 3
(finished sign board)
Acrylic light guide plate + diffusion sheet + LED modules +aluminum frame
S type
| | |
| --- | --- |
| Commencement of Sales | May 15, 2009 |
| Sales Channels | Sign and display makers nationwide |
| Sales Target | ¥1,000 million in three years |