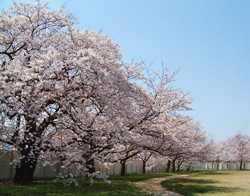 the rows of cherry trees (April 2008)
Chemicals manufacturer, Kuraray Co., Ltd., will hold the Cherry Blossom Viewing Party at its Saijo Plant as part of its annual social contribution activities on Monday, March 30 and Tuesday, March 31, 2009. This year marks the 18th time this event will be held, giving the public an opportunity to view the rows of cherry trees located within the plant premises. On these days, the employee cafeteria will be open and a bazaar will be held by Kuraray Group companies.
The Saijo Plant, which commenced operations as a producer of rayon in July 1936, has undergone many changes and is celebrating its 73rd anniversary this year. In recent years, it has become a key production facility for such trend-setting products as optical-use poval film for polarized film, VECTRAN high-strength polyarylate fiber and GENESTAR heat-resistant polyamide resin.
There are approximately 25 rows of cherry trees on the Saijo Plant premises, including a few over 70 years old that project a stately aura.
Believing it to be a shame that only employees have an opportunity to appreciate these beautiful rows of cherry trees, the Company decided to open the plant grounds to the public for the first time in 1992, with 2009 marking the 18th time that the Cherry Blossom Viewing Party has been held. Initially, approximately 500 people came to enjoy the cherry blossoms. As attendance increased over the years—currently exceeding 10,000 visitors—the Saijo Plant has lived up to its reputation as being one of Shikoku's most famous cherry blossom viewing locations.
In addition to public viewings during the peak cherry blossom bloom dates, various plant facilities will be opened (March 28 and 29), and other spectacular events such as a gathering of plant veterans will be held.
Because the plant will be in operation throughout the Cherry Blossom Viewing Party event, it would be greatly appreciated if visitors could be made aware that bringing food and drinks on site is not permitted, as it is possible to purchase refreshments within the plant, and that pets are not permitted.