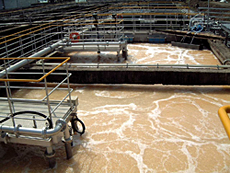 This wastewater treatment system
being used in a wastewater
treatment facility at the Saijo Plant
It was announced that Kuraray received the Minister's Award from the Ministry of Education, Culture, Sports, Science and Technology at the 18th Grand Prize for the Global Environment Award event (hosted by the Fuji Sankei Group and supported by the Ministry of Economy, Trade and Industry; the Ministry of the Environment; the Ministry of Education, Culture, Sports, Science and Technology; and the Ministry of Land, Infrastructure, Transport and Tourism) in recognition of the development of a highly rated wastewater treatment system that contributes to environmental preservation. A presentation ceremony is scheduled to be held on April 21, 2009 at Tokyo's Meiji Kinenkan.
The Grand Prize for the Global Environment Award, which aims to promote a "symbiosis between industrial development and the global environment," was established in 1992 in special cooperation with the World Wide Fund for Nature Japan as an award that focuses on industry. This award recognizes companies, local governments, schools, citizens' groups and other organizations that have become successful social role models through notable achievements in such areas as developing products, services and technologies that contribute to the realization of a sustainable, recycling society; promoting environmental preservation-based activities and businesses; conducting research on 21st century social systems; and further raising awareness of global environmental problems.
In conjunction with the Kuraray Group's undertaking of activities that alleviate environmental burdens that include reducing the amount of greenhouse gases and chemical substances discharged and eliminating waste material emissions, Kuraray is focusing on the development of technologies and systems that offer solutions to environmental problems. A result of this is a new wastewater treatment system featuring microorganisms that break down organic material.
Existing wastewater treatment methods use activated sludge that contains microorganisms to breakdown organic matter found in wastewater. In addition to requiring large-scale facility space, the use of activated sludge produces a significant amount of excess sludge (i.e., an excessive proliferation of microorganisms) that becomes industrial waste and is difficult to reduce.
Using a biocarrier for immobilization of effective microorganisms composed of a proprietary PVA gel developed by Kuraray, this wastewater treatment system makes possible the near elimination of excess sludge, in combination with reduced disposal facility space, as well as the reuse of wastewater as needed.
The reception of this year's Minister's Award is a testament to the high acclaim garnered by Kuraray's wastewater treatment system, a technology that contributes to wastewater purification and significant reductions in waste materials. On this occasion, the Kuraray Group pledges to promote initiatives that further address environmental problems through its business activities.