Kuraray Co., Ltd. (Headquarters: Chiyoda-ku, Tokyo; President: Fumio Ito; hereafter "Kuraray"), which produces and sells CLARINO man-made leather—a material that has a wide range of uses, including school bags—is lending its support to the Tetsuya Utsumi School Bags (Randoseru) Foundation established by Yomiuri Giants (professional baseball team) pitcher, Tetsuya Utsumi. This foundation supports social contributions in the form of gifts of school bags to children living in orphanages who will be entering elementary school during the following year, which depends on the number of strikeouts Tetsuya Utsumi achieves in one season.
Background and Overview of the Tetsuya Utsumi School Bags (Randoseru) Foundation
Ever since joining the team, Tetsuya Utsumi, who is the father of one child, has been visiting an orphanage located near the Giant's pre-season training camp in Miyazaki on his days off to encourage the children. Utsumi came up with the idea of creating this foundation when he realized during one of these visits that there was no funding to purchase school bags for the children. Very much appreciating Utsumi's idea, Kuraray began supporting and cooperating with this endeavor.
Thanks to Utsumi's achieving 154 strikeouts during the 2008 season, the same number of school bags was given to new first year elementary school students who live in orphanages located mainly in Tokyo, the home of the Giants, and Kawasaki City. Kuraray, in coordination with school bag manufacturers, is assisting in the distribution of school bags and other related activities.
*

With Utsumi in attendance, a ceremony to announce the establishment of the Tetsuya Utsumi School Bags (Randoseru) Foundation and give away school bags was held at Seibi Home orphanage (4 chome, Akabanedai, Kita-ku, Tokyo) on January 24, 2009 starting at 11:00 a.m. During the ceremony, Utsumi presented black school bags to two boys and red school bags to five girls entering elementary school this spring, all of which were manufactured with

CLARINO

.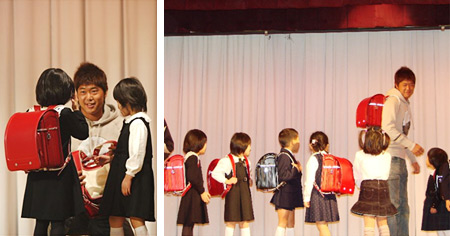 Tetsuya Utsumi Profile
Uniform number: 26; left-handed pitcher and hitter
Born on April 29, 1982, Utsumi joined the Yomiuri Giants during the 2003 draft under a system that gives players a choice of teams, after playing for Tsuruga Kehi Senior High School in Fukui Prefecture and then Tokyo Gas. In April 2006, he became part of the first string's starting rotation and was the team's top pitcher with 12 wins. Playing in 31 games that year, Utsumi had the third largest number of strike outs (179) in the Central League, pitched his first complete game and shutout victory, and appeared in the Japan Professional Baseball All-Star Game and the Japan-U.S. All-Star Series. Utsumi pitched the 2007 season opener and became the pillar of the pitching lineup, achieving a career high of 14 victories, 180 strikeouts and winning the first-ever Award for the Most Strikeouts. In June of that year, his first son was born in November. As the backbone of the rotation in 2008, Utsumi continued to perform well, recording 12 wins and 154 strikeouts.
Achievements over the past three years
Year
Games
Wins
Loses
Winning
percentage
Innings
pitched
Strikeouts
Earned run average
2006
31
12
13
.480
194
179
2.78
2007
28
14
7
.667
187(2/3)
180
3.02
2008
29
12
8
.600
184(1/3)
154
2.73
(Reference) Kuraray's School Bag-related Social Contribution Activity, Sending School Bags (Randoseru) Across the Sea Campaign
Since 2004, Kuraray has implemented the Sending School Bags (Randoseru) Across the Sea Campaign, in which disused school bags are filled with stationary and other school supplies such as notebooks, pencils, ballpoint pens and crayons, and are sent to children in some of the most underprivileged countries in the world, including Afghanistan and Mongolia. Thanks to these activities, over 50,000 school bags were distributed to children living overseas between 2004 and 2008. Kuraray began accepting school bags as part of the 2009 campaign on Tuesday, January 20. (Please visit http://www.kuraray.co.jp/ -Japanese language only - for more details)