Kuraray Co., Ltd. (Headquarters: Tokyo; President: Fumio Ito; hereafter "Kuraray") today announced the commencement of accepting randoseru for its Sixth Sending School Bags(Randoseru) Across the Sea Campaign 2009 from Tuesday, January 20, 2009.
School bags usually come to the end of their useful lives—and tend to be consigned to storerooms or closets, though still in good condition—after six years of "scholarly" endeavors during children's elementary school days. Thus, Kuraray started the Sending School Bags Across the Sea Campaign, where disused school bags are given a renewed life by filling them with stationery and other school supplies such as notebooks, pencils, ballpoint pens and crayons, and sending them to children in some of the most underprivileged countries in the world, including such places as Afghanistan and Mongolia.
Having begun in 2004, this campaign is now commemorating its sixth anniversary. Over 50,000 school bags have already been given to children overseas.
As a manufacturer of CLARINO man-made leather, a material used for randoseru, Kuraray continues to be in charge of collecting school bags across Japan and will send them to Afghanistan and other countries by covering the shipping expenses for 2009.
*

The domestic shipping costs for school bags will be covered by the donors.
For details of campaign activities in the past, please see the following site:
http://www.kuraray.co.jp/csr/randoseru/ (Japnese language only)
Activity Name
Sending School Bags Across the Sea Campaign 2009
Sponsor
KURARAY CO., LTD.
Hosts
Japanese Organization for International Cooperation in Family Planning (JOICFP)
http://joicfp.or.jp/jpn/randoseru/index.shtml (Japnese language only)
Randoseru Industry Association, Japan Luggage Association
http://www.randoseru.gr.jp/ (Japnese language only)
Management Office
Digitalise, Inc.
Main Activity Schedule in 2009
Tuesday, January 20, 2009
Start accepting school bags through the Kuraray Web site
http://www.omoide-randoseru.com/ (Japnese language only)
Middle of April 2009
Quality inspection by volunteers
Early May 2009
Ship school bags
(Tokyo–Karachi, Pakistan, by ship and Karachi–Afghanistan by land)
(Tokyo–Xingang, China, by ship and Xingang–Mongolia by rail)
Distribute school bags to children
Process to Deliver School Bags to Afghanistan
Quality Inspection and Packaging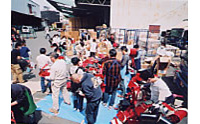 School bags donated from all over Japan will be inspected by volunteers. Major inspection points include whether or not the metal fittings are broken, and whether any of the stationery and other school supplies in the bags is damaged. Kuraray pays particular attention to making sure that all school bags made from pigskin are sent to Mongolia, because Afghanistan is an Islamic country and any products related to pigs will not be accepted. After careful inspection, school bags will be packed in cardboard boxes and loaded in containers, waiting for the shipment.
From Yokohama Port to Peshawar, Pakistan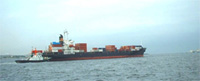 Containers filled with school bags will be transported to Yokohama Port and placed in the hold of the ship by crane. The ship will sail to the Port Muhammad Bin Qasim in Pakistan. Then the containers will be transferred to heavy trucks and transported to Peshawar.
From Peshawar to Afghanistan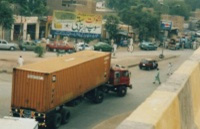 After inspected at customs in Peshawar, the school bags will travel further, to the border between Pakistan and Afghanistan. Steep mountain paths of Khyber Pass continue to the border town of Torkham. The school bags will again have long "immigration" check at the border. After entering Afghanistan, the truck will head for the final destination, Jalalabad. Then it will not be long before the children receive their school bag.
School Bags Reach Children Safely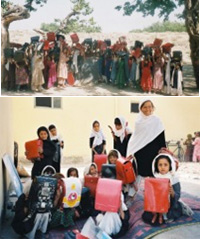 After a long journey, the school bags finally reach the children. Seeing randoseru for the first time in their life, children are very curious about it. Some are so excited that they carry it upside down, some take it home with care, some compare their bag with that of their friends, and others proudly carry it on their back. They also choose the color they like. After graduating from elementary school in Japan, randoseru start their second life with children in Afghanistan.
Some Messages to Kuraray Regarding this Activity over the Last 5 Years
A Gift from My Late Grandmother
My younger brother's school bag was a gift from our grandmother, who passed away due to subarachnoidal hemorrhage four years ago. We have kept the bag for quite a long time. However, we heard about this campaign, and thus we sent the bag, hoping that she would be happy if someone could make use of it. (19-year-old student, Tokyo)
Send a School Bag Filled with Cheer
On January 17, 1995, an unforgettable earthquake struck Kobe and burned our house down. Yet, thankfully, all of our family members were safe and sound. We were able to evacuate our home in Osaka immediately after the quake. However, with no hope for the future, I was reluctant to help prepare for our daughter's entry into elementary school in the spring. In the course of this, a person from a bag shop came to my daughter's kindergarten and gave her a school bag. I was extremely grateful for his kindness, and my daughter's happy face with the bag encouraged me to make a new start. She is now in the final year of high school and preparing for the university entrance examinations. Through many ups and downs, we have been able to come this far thanks to everyone's cheer. I am filled with gratitude for people's kindness. Though her school bag has fulfilled its role, we will be more than happy if it can be of help to someone on the occasion of my daughter's proceeding on to higher education. Despite a different environment, these donated school bags will surely give children joy once again. My hearty cheers to the children of Afghanistan! (36-year-old mother, Hyogo Prefecture)
Always with this Randoseru in My School Days
Though feeling very big when I was given it, now I feel that my school bag is surprisingly small and light. I had often taken a side trip with friends on my way home, and my school bag is filled with happy memories from those experiences. The school bag was always with me even after I changed to a new school. It has been kept in a closet after graduating from elementary school, but I decided to donate it when I read an article about the Randoseru Campaign in the newspaper. I hope it can bring happiness to someone overseas. (13-year-old junior high school student, Hyogo Prefecture)
Wishing for the Healthy Growth of Children in Afghanistan
We are members of the Parent-Teacher Association of a school for the handicapped. There are children here from the age of elementary school to high school who are sick or who are handicapped. Every parent purchased randoseru, hoping for their child's healthy growth. Currently, children are proceeding in life, each at their own pace, despite their disease or handicap. Most often it is other people who provide support to us, but in this case, our donation of the randoseru gave us an opportunity to help others on this occasion. We are very happy and excited as we think of children in Afghanistan carrying our randoseru to school. We wish these Afghan children a happy life from the distant country of Japan. (Parent-Teacher Association board members)
Hoping to Make Use of My Precious School Bag
I used my school bag with care. I have lived in Tanzania, and I have seen a number of children who did not have an educational opportunity. I hope that my school bag can be of service to someone. (15-year-old, junior high school student, Hiroshima Prefecture)