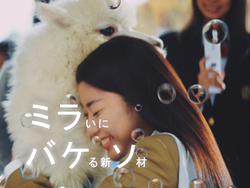 Kuraray announces the launch of a new TV commercial episode from Saturday, December 27, 2008 as part of the "Mirabakesso" corporate ad campaign.
Keeping the same catchphrase for the campaign, "Mirabakesso," which is a contraction of Mirai ni Bakeru Shinsozai (literally translated as "new materials that transform into the future"), and the same actress, Riko Narumi, the new TV commercial episode again expresses the Kuraray Group's commitment as a future-oriented chemicals maker motivated to innovate. In particular, the new episode focuses the spotlight on "people," emphasizing that people, in addition to materials and business, are the subject of innovation at Kuraray.
Again co-starring Kuraray-Chan, the alpaca that appeared in the previous episode, the new episode shows the great chemistry that exists between Ms. Narumi and Kuraray-Chan.
1. Summary of TV Commercial
Title
Kuraray Corporate Ad TV Commercial "Mirabakesso: The "Lucky Charm" Episode."
Running time: 30 and 15 seconds (two versions)
Broadcast Schedule
From December 27, 2008 (Saturday)
(1)

TV programming (nationwide)

(2)

Commercial spot airing locations (Kanto, Kansai, Niigata, Okayama, Kagawa and Ehime regions)
TV Commercial Story Line
The "Lucky Charm" Episode

One morning. A girl on her way to school and her brother, a university student, on his way to look for a job, are standing next to each other on a station platform.
The girl prays, "May my brother successfully transform into the future…" After praying, she holds out to her brother something that she has been holding in her hands.
It seems like a strange-looking lucky charm in a familiar shape. Yes! It is the shape of Kuraray-Chan, their pet alpaca.
Puzzled, the brother asks, "What's that you're holding?"
She answers with a big smile on her face, "Oh, this? This is the 'Mirabakesso' lucky charm!"
And, once he asks back, "What? Mirabakesso?"…
His entire head is covered by one huge chemical-esque air bubble, and the bubble bursts with a sound, "Pop!"
And what happens next? At the spot where he was standing just now, there she is, Kuraray-Chan!
Kuraray-Chan repeats, "Mirabakesso, Mirabakesso!"
She goes, "See? You've transformed!"
The girl looks satisfied and delighted at her brother's successful transformation.
Production Staff
Production Company : LIGHT PUBLICITY CO., LTD.
Creative Director : Nobuyuki Miyadera
Director : Yoshinari Kamiya
TV Commercial Concept Developed by the Production Staff

In the previous TV commercial episode, we tried to express the Kuraray Group's commitment that Kuraray is proactively creating "Mirabakesso," using a mysterious-looking alpaca. In the new episode, we tried to deliver the message that "people" are included under the "materials" mentioned in "materials that transform into the future," which is literally translated from Mirai ni Bakeru Shinsozai in Japanese. The brother character, who is on his way to look for a job, has been created based on this concept. Indeed, the brother is depicted as a person who has infinite potential to transform toward the future. The brother character receives the Kuraray-Chan lucky charm and then transforms into Kuraray-Chan. This transformation surprises and pleases the girl and other people present. People and materials alike undergo transformation in the future. We created this new episode to convey the fun, happiness and hopes that spring out from such transformation.
2. Profile of Riko Narumi
Riko Narumi was born on August 18, 1992 in Yokohama City, Kanagawa Prefecture. In 2005, she was cast in her first leading role in the drama Ruri no Shima. In 2007, she starred in a series of films including Shindo, Ashita no Watashi no Tsukurikata and Kimi ni shika Kikoenai. In a Fuji TV drama series titled Hachimitsu to Kuroba, which was aired in the first half of 2008, Ms. Narumi played the role of Hagumi Hanamoto. She is also cast in the leading roles in the film Tsumi toka Batsu toka directed by Keralino Sandorovich (real name: Kazumi Kobayashi) and Yamagata Scream directed by Naoto Takenaka, both to be released in the coming year.
3. About Alpaca
Alpacas are found mainly in South America. They have been domesticated since the time of the ancient Inca Empire. Alpacas live on grass and moss and grow to reach approximately 2 meters in height and 50 kg in weight. Though hard to imagine from their cute, unique appearance that stays in one's mind at just one glance, they are very cautious and shy. In the TV commercial, an older brother of a girl played by Ms. Narumi turns into an alpaca.
4. Behind the Scenes
Filming took place in mid-November 2008 at the Mooka Railway's Mooka Station located in Tochigi Prefecture. The station is famous for its SL Mooka steam service using steam locomotives. The conceptual locational setting of the commercial is a station somewhere in Chofu City, Tokyo. Film crew members temporarily moved around signs and poles to transform one section of the station.
In the five months since the film crew had last seen her, Kuraray-Chan (her real name is Hanako) had grown a little bigger, with her hair also now longer and thicker. Unlike the previous episode, which was filmed in a studio, the filming this time was conducted outdoors on a station platform. Naturally, there were trains and people coming and going. Because of these and other distractions, Kuraray-Chan did not "act" or look at the video camera as the film crew would have wished. In attempts to make her remember that she is a one-of-a-kind actress, the crew resorted to all possible tricks, such as using Moon-Chan—Kuraray-Chan's black alpaca friend from the same farm—to attract her attention and by her keeper placing her favorite food near the video camera. Ms. Narumi herself also helped, pointing to the camera for Kuraray-Chan. It was as if a senior actress was giving an acting lesson to a junior actress.
All these efforts bore fruit, or maybe not. But Kuraray-Chan somehow turned to the camera, and the filming was successfully completed. The keeper said that Kuraray-Chan was still too young at the time the previous episode was filmed, but she has gradually grown to show what she likes and dislikes. Obviously, Kuraray-Chan herself is on the way to adulthood.
The filming on this occasion would not have been possible without the significant support provided by the Mooka Railway staff, who cooperated with the film crew in many ways, such as moving a stationary train slightly to provide the best angle. The entire film crew is indebted to the Mooka Railway staff for their contribution.
5. Purpose of the Ad Campaign
Kuraray was established in 1926 with the purpose of commercializing rayon. The Company got its real start as a fiber and textile manufacturer after becoming the first in Japan to commercialize synthetic fiber, named KURALON, and the first in the world to commercialize man-made leather, named CLARINO. Today, over 70% of Kuraray's business is comprised of businesses other than fibers and textiles. Specifically, its chemical-related materials business continues to expand and is represented by EVAL, a resin distinguished by its excellent gas barrier properties, and poval film, which is essential for the manufacture of LCDs.
In addition, as of October 1, 2007, the industry classification of Kuraray shares on the Tokyo Stock Exchange and Osaka Securities Exchange was changed from "Textiles & Apparels" to "Chemicals." This change is representative of Kuraray's growth as and transformation into a chemicals manufacturer.
Accordingly, as the Company pursues ongoing growth in the chemicals business, this ad campaign, which includes the TV commercials as well as posters and Internet ads, was developed from November 2007 with the purpose of boosting Kuraray's corporate brand value.
The catchphrase, "Mirai ni Bakeru Shinsozai," embedded with the word, "future," was chosen for exactly this reason, which is to show Kuraray's focus on its future progress as a chemicals manufacturer. We also tried to create an analogy between the potential of new materials and the potential of youth.
6. TV Commercial Broadcasting Schedule
(1)

TV Programming (Nationwide)

i.

January 10, 2009: New Earth Mystery: World in One Second IV
Broadcast in affiliation with Tokyo Broadcasting System, Inc. from 7:00pm to 8:54pm (scheduled)

ii.

Nikkei Special – Gaia no Yoake – (documentary program on economic subjects, broadcast in affiliation with TV Tokyo Corporation from 10:00pm to 10:54pm every Tuesday)

(2)

Commercial Spot Airing Locations (Kanto, Kansai, Niigata, Okayama, Kagawa and Ehime regions)

December 27, 2008 (Saturday) – January 31, 2009 (Saturday)