The Kuraray Group undertakes a variety of social contribution activities, emphasizing those that can be sustained over long periods and that provide employees with opportunities to participate on a proactive basis. For its part, the Okayama Plant has promoted activities rooted in the local community, encompassing such areas as society, culture and sports. Moreover, starting this year, the Okayama Plant began participating in the Okayama Prefecture-supported "Companies Collaborating in Creating Forests" initiative, encouraging the growth of volunteerism among employees and serving as a means to enhance environmental education.
1. Relationships with Local Communities
To facilitate communication between Kuraray employees and local residents, each year the Okayama Plant opens its baseball pitches and sports facilities to the public and stages summer festivals as well as bazaars. All of these activities provide local residents and employees' families with opportunities to visit plant facilities. Included among these activities is the Konan Regional Children's Ball Games Meet, an event held every Sports Day national holiday and, as of fiscal 2008, has taken place a total of 34 times. Targeting local elementary school children, this sports meet has become an event that is rooted in the region.
2. Giving Back to Society and Ongoing Educational Activities
Through the Matching Gift* scheme, which Kuraray undertakes companywide, the Okayama Plant has been donating equipment and other items to neighboring nursing care facilities annually since 1992. In addition, as a new initiative undertaken during the current fiscal year, the Okayama Plant has donated books to local elementary and junior high schools with the aim of introducing more children to the world of reading.
Moreover, Kuraray is continuing to undertake steady activities that are rooted in the local community by holding an annual calligraphy and painting contest, for which the Company accepts submissions from local elementary school students; staging the "Fun Chemistry House" to familiarize children with chemistry; providing opportunities for neighboring junior and senior high school students to experience the atmosphere of a real workplace; undertaking clean-up activities in the area surrounding the plant by employee volunteers; and inviting local residents to attend lectures given by celebrities.
*

Matching Gift:

Employees who wish to do so have participated in a scheme where Kuraray subtracts amounts under 100 yen from salaries, matches employee contributions yen for yen with corporate contributions and donates these to regional projects and social services.
3. Environment Preservation Activity Initiatives
For the first time, the Okayama Plant began participating in "Companies Collaborating in Creating Forests," a project that undertakes tree planting and preservation activities while receiving assistance from the prefecture. In the town of Kibichuo (located in Okayama Prefecture), employees of the Okayama Plant and their families volunteered to plant saplings in May and cut grass in July, August and October of this year. Kibichuo and the Okayama Plant have concluded an agreement to continue these activities for a five-year period ending in fiscal 2012. Kuraray intends to steadily implement such measures as it coordinates with prefectures, towns and forest unions, with the goal of undertaking activities that preserve the environment as well as raise awareness of environmental preservation among employees and their families.
Konan Regional Children's Ball Games Meet

Approximately 1,000 elementary school children participate in this annual event at the beginning of October, competing in softball, portball and volleyball.
Companies Collaborating in Creating Forests

In the mountain forests located within the town of Kibichuo, employees and their families volunteer to plant trees and participate in other environmental preservation activities.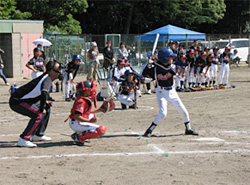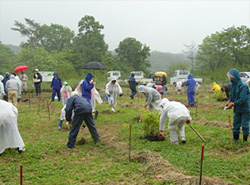 Summer Festival

Held annually at the beginning of August, this event is staged by employees and their families, who extend invitations to local residents.
Calligraphy and Painting Contest

Started in 2006, local elementary school students are invited to participate in this annual spring contest by submitting calligraphy or paintings.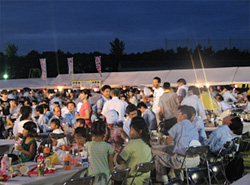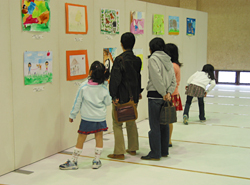 Fun Chemistry House

Held periodically a total of 29 times since 2002, 1,050 elementary school students have participated in this event.
Clean-Up Activities in Surrounding Areas

Periodic clean-up efforts undertaken by employee volunteers began with Jinken Doro in 1996, expanding to the Asahi River Area in 2003 and Kojima Lakefront in 2005.