Kuraray—the producer of CLARINO, an important material used in making school bags—in concert with the Japan Luggage Association/Randoseru Industry Association (an assembly of schoolbag manufacturers), held the first "Randoseru (School Bag) Treasure Box" event on November 24, 2008 (a national holiday). The purpose of this event was to reexamine the role played by and raise the value of the school bag, as well as encourage the growth of children via the school bag.
Led by the superb emcee, "Fruit Punch," a fun time was had by all with fine performances by "super kids" (featuring dance, calligraphy, golf and rap music), school bag fashion shows, an appearance by Japanese actress and model, Yuri Mitsui, and a talk with Heigo "Animal Hamaguchi" and his daughter, Olympic wrestler, Kyoko Hamaguchi..
Super kids display their special abilities, putting adults to shame with amazing skills and abilities
Randoseru (school bag) fashion show
Fashion show featuring school bags designed by Naoko Hirota
Original school bags displayed by "Animal" and Kyoko Hamaguchi
"Sending Randoseru (School Bags) Across the Sea": "Animal" and Kyoko Hamaguchi call for school bag donations in fiscal 2009
Presentation of a school bag on behalf of every guest to a new first grade elementary student, followed by a photo session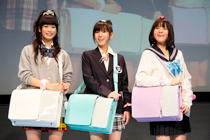 Fashion show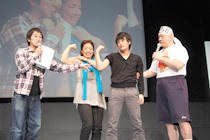 "Animal Hamaguchi" and Kyoko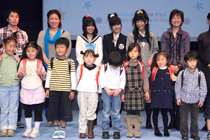 Photo session
By introducing elementary school-aged children to their unlimited potential, Kuraray hopes to provide them with the enthusiasm and courage to realize their dreams.
| | |
| --- | --- |
| Event location | Marunouchi Building Hall, Marunouchi, Chiyoda-ku |
| Hosted by | Kuraray Co., Ltd. |
| Sponsored by | Japan Luggage Association/Randoseru Industry Association |
| In partnership with | Japanese Organization for International Cooperation (JOICFP), the editing department of Tokuma Shoten Publishing Co., Ltd.'s magazine, Loveberry, Takihyo Co., Ltd., BeBe |
| Event coordinated by | Digitalrise, Inc. |