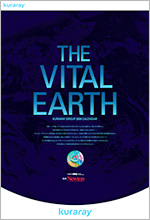 "THE VITAL EARTH" cover
Every year Kuraray produces a highly popular user-friendly calendar that takes nature as its theme. For 2009, the concept is "For precisely the reasons that Earth is so vital, understand the Earth as well as you understand your own body!"
This calendar was created in collaboration with Japan's leading popular science magazine, Newton, to enable everyone, from children to adults, to enjoyably learn about the Earth, our irreplaceable home. Each month, columns and illustrations present easy-to-understand explanations of our mysterious Earth, together with associated photographs of breathtaking landscapes from around the world.
The following provides an outline of the calendar and details.
| | Title | Column Theme | Photograph |
| --- | --- | --- | --- |
| January | How old is the Earth? | Planetary Formation of the Earth | Guangxi Zhuang Autonomous Region Guangxi Province, People's Republic of China |
| February | What is the Earth's shape | Forces Afflicting the Earth's Shape | Off the Otago Peninsula, South Island, New Zealand |
| March | What is the Earth's heart | Ocean General Circulation | Greenland, Kingdom of Denmark |
| April | What is the Earth's temperature? | Internal Structure of the Earth | Yellowstone National Park, Wyoming, United States of America |
| May | How does the Earth Breathe? | Oxygen and Carbon Dioxide Migration Cycle | Shark Bay, Commonwealth of Australia |
| June | What is the Earth's spine? | Angle of Axis Inclination vs. Terrestrial Orbit and Height of Sun in Southern Sky | Lemaire Channel, Antarctica |
| July | How strong is the Earth? | Continental Separation and Drift | Karakoram Range, Islamic Republic of Pakistan |
| August | What nourishes the Earth? | The Food Chain | Primeval rainforest, Sabah, Malaysia |
| September | What is the Earth's lifeblood? | Terrestrial Water Circulation | Off the Bahamas coast, the Commonwealth of the Bahamas |
| October | What is the Earth's skin? | Atmospheric Circulation | Sahara Desert, People's Democratic Republic of Algeria |
| November | How does the Earth protect us? | Structure of the Earth's Magnetic Field | Brooks Range, Alaska, United States of America |
| December | Does the Earth have family ties? | Terrestrial and Lunar Orbital Centrifugal and Tidal Forces | Sekiya Beach, Niigata Prefecture, Japan |