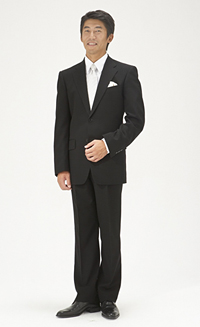 Haruyama Trading Co., Ltd. (Haruyama Trading) and Kuraray Trading Co., Ltd. (Kuraray Trading)have jointly developed a new brand of men's formal wear that uses a new material that takes advantage of the latest synthetic fiber technology. Haruyama Trading will make the new "f2stage" brand available from October 6, 2008.
The "f" of the new f2stage product brand now being introduced by Haruyama refers to "formal" while "2" connotes the "next generation." This new formal wear is being proposed as a brand "that takes another look at the essence of fashion to create something new," and we hope it will be worn by people of the next generation. Sales targets are for ¥1 billion in the first year, and for ¥3 billion in the third year.
In addition, as one element of its efforts with regard to the environment, Haruyama Trading stores will accept customers' return of used products made of this new material for reuse. The products will undergo thermal recycling at Kuraray's Kurashiki Plant to transform them into a solid fuel for use as a coal substitute to generate electricity, thereby saving resources.
Before launching this brand, we conducted thorough research into consumer needs, the results of which revealed that, together with lustrous black formal wear with elasticity for a comfortable fit, demand existed from people who wanted "fabric that repels the lint that easily stands out against a black background." This new material features high repellency to such lint as well as resistance to damage by insects and to stains and wrinkles.
This new material offers comfortable elasticity and moderate firmness thanks to the use of a multiple component type elastic filament that incorporates two varieties of polymer in its core fiber. In addition, the fiber features a nano-level surface structure of countless microscopic holes that are highly effective in diffusing reflectivity and thus realizing a deep, lustrous blackness. Moreover, by integrating CLACARBO—an electrically conductive fiber made of electrically conductive carbon—into this fabric, we have actively eliminated static electricity by utilizing the "coronal discharge" phenomenon, which is the dispersal of minute electrical discharges to repel lint and keep it from settling on the fabric surface.
Haruyama Trading and Kuraray Trading continue to pursue development based on a uniform basic concept, namely, "to develop high-quality formal wear that incorporates the comfortable characteristics of polyester." We offer this high-quality formal wear to be worn by people of today's generation for the comfort that comes from an elasticity that is 1.5 times that of traditional materials, an ability to repel lint and its British style enhanced by deep, lustrous blackness on par with wool in appearance.