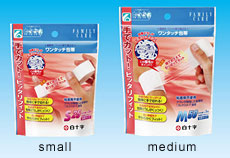 Hakujuji Co., Ltd. (Headquarters: Tokyo; President: Tadamasa Amada) and KURARAYKURAFLEX CO., LTD. (Headquarters: Osaka; President: Mikihiro Hama) have jointly developed FC One-Touch Bandage, which uses the new type of nonwoven fabric, FELIBENDY. This product is a groundbreaking item that affixes to wounds and realizes unprecedented convenience and comfort in a bandage. Hakujuji is commencing sales of the product, which is available in two sizes: small (width 25mm x length 3m; ¥399, including tax) and medium (width 50mm x length 3m; ¥504, including tax).
There are likely many people who think that "things do not go well when affixing a bandage or adhesive plaster. It would be a big relief if I could simply attach a bandage with one hand by myself. Or it would be good if the part left over after I finish wrapping or trying to attach the bandage didn't slip, fall off or become detached."
The FC One-Touch Bandage, an item that affixes to wounds, addresses these concerns. The features that this product offers include: (1) an ability to be stretched and cut, simply using one hand, without the need for scissors; (2) specially processed high microcrimp fiber and fiber and textiles with adhesive qualities that do away with need for a cleat; (3) no slippage or falling off when being attached, as wrapping by itself assures that the bandage is firmly affixed; and (4) a soft fit, thanks to a material with high-stretch characteristics, and comfortable adhesion that is easy on the skin without use of adhesives.
Use FC One-Touch Bandage to affix gauze or wound protection material
KURARAYKURAFLEX is a company within the Kuraray Group that conducts the manufacture, processing and sale of nonwoven fabrics and nonwoven fabric products.