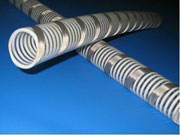 Kuraray Plastics Co., Ltd. (Headquarters: Osaka City; President: Yuzuru Sasaki) is developing a series of hoses that bestows currently available general-purpose hoses with an additional feature. As a first step in these efforts, Kuraray Plastics has developed a new series of static-resistant hoses, sales of which commence from August 20, 2008.
The product development of this series is concept-based: that of meeting the strong needs of users by getting products into their hands sooner and in smaller volumes.
Conventional ground wire-enclosed static-resistant hoses were special-purpose items and as such were subject to production bottlenecks with lead times and minimum lot volumes. By processing and attaching static-resistant tape into general-purpose hoses, Kuraray Plastics' new static-resistant hoses enable the product to be supplied to users with short lead times and in small-sized lots.
Applicable products include an array of conventional delivery and suction hoses for use across a wide range of fields, including engineering, drainage and irrigation, pharmaceuticals and food processing.
New Static-Resistant Hose Overview
1.

Features
(1)

High static-resistant characteristics (less than 10² Ω) equivalent to ground wires

(2)

Ability to respond rapidly from one 20m-50m hose (conventional hoses require a length of 500m-1,000m)

(3)

A broad area of the hose, an internal diameter of 25mm-75mm, is available for processing with static-resistant tape.

(4)

Spiraling on hose possible for an array of external flat-type applications
2.

Applications

For conveying powders, granulated materials and pellets that are susceptible to damage by static electricity
3.

Standard specifications

Equivalent to conventional products
4.

Conductive tape width

17mm
5.

Recommended retail price

Equivalent to conventional ground wire hoses
6.

Sales targets

First year: ¥10 million; after three years: ¥30 million
Kuraray Plastics Co., Ltd.
Headquarters
Shin-Hankyu Building 9F, 1-12-39 Umeda, Kita-ku, Osaka, JAPAN
President
Yuzuru Sasaki
Paid-in capital
¥180 million
Employees
220 (as of March 31, 2008)
Business activities
Manufacture, processing and sale of rubber and plastic hoses, various molded products, conduit tubes, laminated products,

SEPTON

compounds and molded products.