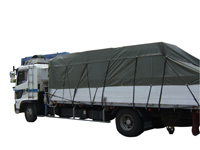 Kuraray Co., Ltd. (Headquarters: Tokyo) today announces the launch of a lightweight canvas for flatbed truck covers. Made from the Company's high-strength KURALON K-Ⅱ fiber, this product (103cm×approximately 50m, available in three colors) will be fully commercialized on August 1, 2008.
Employing yarns of high-strength KURALON K-Ⅱ, the product realizes thin and lightweight covers for flatbed trucks. At 390 g/m², this canvas is 25% lighter when compared with Kuraray's existing product, which weighs approximately 525 g/m². The weight of a general, large-size flat sheet (of approximately 80m²; 6m wide and 13m long) will thus be reduced by 11kg, from around 42kg to 31 kg. With this feature, the new lightweight canvas will contribute to improved work efficiency in response to workplace feedback about the difficulties of handling heavy sheets. Simultaneously, the product will contribute to enhanced fuel efficiency.
By leveraging its achievements in the fisheries and agricultural material sectors, Kuraray will also apply such materials as KURALON and KURALON K-Ⅱ to canvas covers or flat sheets for the truck industry and proactively engage in R&D and product development activities in new fields.
*

KURALON K-Ⅱ

A new synthetic polyvinyl alcohol fiber developed by Kuraray by means of its unique wet cooled-gel spinning method production technology. Notable features of

KURALON K-Ⅱ

include high strength, low extensibility and alkali resistance.
Product Overview
1.

Features
(1)

Light weight: At 390 g/m², realizes 25% weight reduction when compared with Kuraray's existing general-use product, which weighs approximately 525 g/m² (based on in-house research)

(2)

High strength: Uses 100% new

KURALON K-Ⅱ

yarn
Advantages of flat sheet as an end product

(i)

Fuel efficiency: Improved due to the product being 25% (approximately 11kg) lighter than the general 80m² flat sheet

(ii)

Practicality: Improved efficiency when fitting/removing the sheet
2.

Specifications (Kuraray's average measurement figures)
(1)

Width and length: 103cm×approximately 50m

(2)

Thickness: 0.45 mm

(3)

Weight: 390 g/m²

(4)

Tensile elongation: 10×18 (%)

(5)

Tearing resistance: 9×8 (kgf)

(6)

Water resistance: More than 1,500 (mm/H2O)
3.

Colors

Available in three colors: dark green, blue and olive drab
*

Suggested retail price: ¥3,000/m² (excluding tax)