Kuraray Co. Ltd. and Kuraray Medical Inc. (a wholly owned subsidiary of Kuraray Co. Ltd., Head Office: Chiyoda-ku, Tokyo, President: Sadaaki Matsuyama) announced today that they established two new marketing bases in Europe on July 1, one in the Netherlands and the other in Italy. The move is part of a basic strategy the two companies are implementing for their European dental materials business in which they are building a framework for marketing directly to dental dealers who provide products to dental caregivers. The new subsidiaries are intended to significantly enhance Kuraray's capability to market dental materials in Europe.
(1)

Dutch distributor made into wholly owned subsidiary

The new subsidiary in the Netherlands, Acacia Dental Trade & Marketing, was Kuraray Medical's distributor for the Benelux countries. Kuraray Europe GmbH (KEG), Kuraray7s European subsidiary, acquired all Acacia shares and converted the company into a wholly owned subsidiary. With this, KEG will take over Acacia's local commercial rights and bolster its capability to serve as a marketing base for the Kuraray Group's dental materials.

(2)

Italian subsidiary established

In Italy, KEG established a new, wholly owned local subsidiary for marketing and technical service, Kuraray Dental Italia S. r. l., which will begin operations soon. Regarding sales in the country, Kuraray Medical will terminate its agreement with its Italian distributor and shift to direct-sales by KEG in January 2009.
Kuraray Medical's core business is developing and marketing dental materials with focus on composite resins and high-performance adhesives used in dental repair. Its composite resins are known for their robustness and natural look and feel as dental fillings. Since launching the segment's first product in 1978, Kuraray Medical has commanded the largest share of the Japanese market for dental materials for the past 30 years (company estimate).
Kuraray Medical is now leveraging its high level of expertise, honed in the demanding Japanese market, to drive its global business expansion. The company has established a comprehensive marketing network with local Kuraray subsidiaries in the US (Kuraray America, Inc.) and Europe (KEG) and continues to expand its business in those markets while further building its presence in China and other Asian markets. During this three-year period (2006-2008), Kuraray Medical is on track to raise the share of overseas sales in its dental materials business from 52% to 63% (see table and graph).
Percentage of Sales by Region
FY2005
FY2006
FY2007
FY2008
(Projected)
Japan
48%
44%
40%
37%
U.S.A.
26%
28%
28%
31%
Europe
21%
25%
28%
27%
Asia, other
5%
3%
4%
5%
Total
100%
100%
100%
100%
Graph: Sales Transitions by region (FY2005 = 100)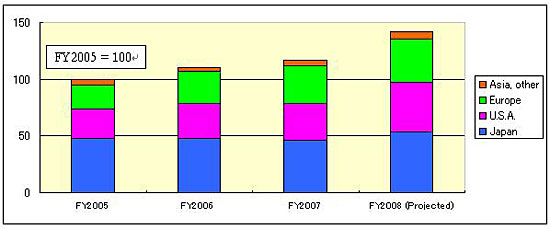 In fiscal 2007, Europe accounted for 28% of total segment sales. One of Kuraray Medical's core business strategies for Europe is bolstering sales by strengthening its direct sale efforts. To this end the company has been realigning its marketing network in the region, beginning with its shift to a direct-marketing approach in Germany, Europe's largest market for dental materials, in 2005, when it transferred marketing from distributors to KEG.
The two new marketing bases announced today mark the seamless continuation of this core business strategy for the dental materials business. Kuraray Medical is confident that this will enable it to offer quality technical services to dental caregivers in each region while continuing to meet the overall needs of the market.
Kuraray Medical is pursuing continued growth for its dental materials business by working to boost sales and expand market share in the US and Europe while also cultivating new market demand in emerging economies. Amidst the increasing maturity and falling birth rate in its home market, Kuraray Medical intends to focus on global business development, utilizing the highly regarded products and expertise developed and honed in Japan.
Profiles of new marketing bases
Netherlands
Name
Kuraray Dental Benelux B.V. beginning January 1, 2009
(Acacia Dental Trade & Marketing B.V. until December 31, 2008)
Location
IJmuiden, Netherlands (a suburb of Amsterdam)
President
Mr. Joost Nederkoorn (currently commercial director at Acacia)
Capital
€1,800,000 (100% owned by KEG) KEG, a wholly owned subsidiary of Kuraray, has acquired all shares in Acacia Dental Trade & Marketing held by Acacia's former parent company, Janouk Holding
Employees
12
Italy

| | |
| --- | --- |
| Name | Kuraray Dental Italia S. r. l (incorporated July 1, 2008) |
| Location | Milano, Italy |
| President | Dr. Fabio Regazzoni |
| Capital | €10,000 (100% owned by KEG) |
| Employees | 4 (with plans to boost headcount to 8 in fiscal year 2009) |
Overview of KEG
Company name
Kuraray Europe GmbH
Headquarters
Frankfurt, Germany
President
Dr. Gerd Lepper
Capital
€31 million (100% investment by Kuraray)
Employees
Approximately 550
Principal businesses
Manufacture and sale of PVA resin(

MOWIOL

), PVB resin(

MOWITAL

) and film(

TROSIFOL

)
Import and sale of fibers and textiles, chemicals, and dental materials
Overview of Kuraray Medical
| | |
| --- | --- |
| Company name | Kuraray Medical Inc. |
| Headquarters | Tokyo, Japan |
| President | Sadaaki Matsuyama |
| Capital | ¥300 million (100% investment by Kuraray) |
| Employees | Approximately 270 |
| Principal businesses | Manufacture and sale of dental materials and other medical products |