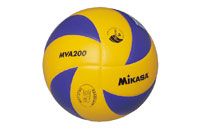 Mikasa Co., Ltd. (Headquarters: Nishi-ku, Hiroshima; Representative Director and President Taketoshi Saeki, hereafter "Mikasa") in partnership with Kuraray Co., Ltd. (Headquarters: Chiyoda-ku, Tokyo; Representative Director and President Fumio Ito; hereafter "Kuraray"), has developed the new MIKASA MVA200 volleyball, which represents a leap forward in surface material development. The MVA200 was chosen as the official volleyball for the Beijing Olympics at the 31st World Congress (Dubai 16 - 17 June, 2008) of the FIVB (International Volleyball Federation). The 24 men's and women's teams from countries chosen to compete in the Olympics have already begun practicing with the new ball.
The MVA200 was developed with the aim of extending rallies for even more exciting matches.
The features of the new MVA200 volleyball are summarized below:
1.

An innovative design of 8 panels shaped like flower petals has been adopted to replace the traditional 18-panel balls. The standard blue, white and yellow of the ball have been upgraded to a brighter and bolder two-color blue and yellow pattern that not only makes the ball more colorful but gives it even greater visibility.

2.

The outer panels of the ball are made of the man-made leather ,

CLARINO

, which makes the ball softer and more flexible. This is achieved by a "2-layer cushion construction" method combining a foam layered polyurethane outer skin with a spongy textured microfiber nonwoven fabric layer.

3.

Ball control has been greatly improved with reduced slippage due to perspiration. This is made possible by a new embossing technique used on the ball's surface, the development of a "multi-pattern construction" which provides fine patterning on flat surfaces as well as special surface nanotechnology processing.

4.

Compared to the MVP200, the ball currently used for competition, the "multi-pattern construction" greatly reduces air distortion surrounding the ball while it is in use and facilitates truer, straighter trajectories.
This ball represents the first design change in 10 years in competition volleyballs since the FIVB introduced color volleyballs in 1998. The new design was introduced to provide a fresh look and improved visibility.
From its initial use as the official volleyball of the 18th Olympics held in Tokyo in 1964, Mikasa volleyballs have been used at 8 of the 10 summer Olympics that followed-each one since the 1980 Summer Olympics held in Moscow-and the 2012 London Olympic Games are no exception.
Since 2000, all FIVB official competition balls have been using the man-made leather, CLARINO. These balls have gained a reputation at FIVB hosted international tournaments as well as the Olympics for their high quality and performance.
Marking the occasion of this revolution in volleyball designs, Mikasa has launched a Volleyball Present Campaign.
| | |
| --- | --- |
| Application Period | Tuesday, July 1 - Thursday July 31 |
| Entry Directions | see the Mikasa homepage's campaign site (http://www.mikasasports.co.jp/) Volleyball shipments expected in early August. |
Official Volleyball for the 2008 Beijing Olympics
1. Name
MIKASA "MVA200"
2. Description

(1)

Innovative design incorporating an 8-panel surface

(2)

Increased softness and flexibility

(3)

Greatly improved ball control with reduced slippage due to perspiration

(4)

Minimized air distortion surrounding the ball and a straight trajectory

3. Circumference
650-670mm (Internationally approved ball, certified ball No.5)
4. Weight
260-280g (same as above)
5. Manufacturer
Mikasa Co., Ltd.
6. Retail price in Japan
(MVA200) Official Volleyball for the Beijing Olympic Games: ¥9000 (Note: manufacturers' suggested retail price. Does not include sales tax)
7. Period of Release
July 2007
Overview of Mikasa Co., Ltd.
| | |
| --- | --- |
| 1. Representative Director and President | Taketoshi Saeki |
| 2. Headquarters | 3-11-2 Kusunoki-cho, Nishi-ku, Hiroshima |
| 3. Capital | ¥120 million |
| 4. Number of Employees | 171 |
| 5. Business activities | Production and sale of competition balls, sporting goods, and industrial rubber for the shipbuilding, iron manufacturing and pump industries. |
Overview of Kuraray Co., Ltd.
| | |
| --- | --- |
| 1. Representative Director and President | Fumio Ito |
| 2. Headquarters | 1-1-3 Otemachi, Chiyoda-ku, Tokyo |
| 3. Capital | ¥89.0 billion (as of March 31, 2008) |
| 4. Number of Employees | 6,770 (consolidated as of March 31, 2008) |
| 5. Business activities | Production and sale of chemicals and resins, fibers and textiles, high-performance materials, medical products and other products. |