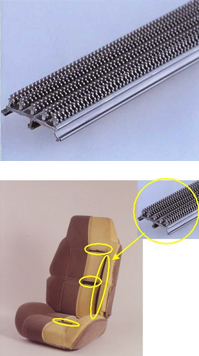 Kuraray Fastening Co., Ltd. (Headquarters: Osaka City; President: Mitsuhiko Takaoka; hereafter "Kuraray Fastening"), manufacturer and seller of MAGIC TAPE hook-and-loop fasteners and MAGILOCK (*1) extrusion molded hook fasteners, hereby announces its decision to expand MAGILOCK Production Facility No. 2 (annual production capacity: 7 million meters) at its Maruoka Plant (Sakai City, Fukui Prefecture) in response to heightened demand for extrusion molded hook fasteners. Operation of the expanded facility is scheduled to begin in April 2009 and will augment current annual production by seven million meters for a yearly total output of 14 million meters.
This expansion is being undertaken in line with efforts to build a stable supply structure able to better respond to increasing demand from the automotive and interior fields. Particularly in regard to car seat assembly, where MAGILOCK extrusion molded hook fasteners are necessary for application of the mold-in method that is being increasingly chosen over the hog ring method (*2). In comparison, the mold-in method offers the following advantages:
1.

At least 500g reduction in weight per seat, which contributes to increased fuel efficiency, reduced CO2 emissions and ultimately less burden on the environment.

2.

Improved efficiency in manufacturing and automation of assembly, supported by this simplified, more uniform assembly technology.

3.

Known to be less of a burden on workers and therefore linked to a decrease in the occurrence of industrial accidents.
In addition to car seat upholstery, application in anchoring ceiling wiring is expanding, demonstrating promise for the future growth of MAGILOCK extrusion molded hook fasteners.
Intent on actively expanding its business and becoming the No. 1 maker of hook-and-loop fasteners, Kuraray Fastening will continue to develop new applications, discover new users and generate new demand for MAGILOCK alongside its mainstay MAGIC TAPE hook-and-loop fastener products.
*1

MAGILOCK

extrusion molded hook fasteners

An innovative and unique molded plastic hook fastener with superior holding power and functionality suitable for a wide variety of applications, from industrial use as a car construction and engineering material, to the apparel and medical industries, where softness in texture is necessary.

*2

Hog ring method

A common car seat upholstery method whereby metal wire and metal rings are used to fasten both the seat's urethane cushion and upholstery material. Use of the hog ring gun, which fixes the metal rings in place, is physically very demanding, and in Europe and the U.S., the burden on workers has caused a number of industrial accidents, with the result that an increasing number of manufactures have switched to the more efficient mold-in method.
Overview of Capital Investment
1.

Location

Kuraray Fastening Co., Ltd., Maruoka Plant,
56 Noune, Maruoka-cho, Sakai, Fukui Prefecture (Plant Manager: Minoru Ohmoto)

2.

Annual production capacity(25mm width)

Current: 7 million meters
Planned expansion: 7 million meters
Total: 14 million meters

3.

Amount of capital investment

approx. ¥300 million

4.

Operational period

Beginning April 2009
Overview of Kuraray Fastening Co., Ltd.
1.

Headquarters

1-12-39 Umeda, Kita-ku, Osaka (Shin Hankyu Building 9F)

2.

President

Mitsuhiko Takaoka

3.

Capital

¥100 million

4.

Number of employees

134 (as of March 31, 2008)

5.

Business activities

Development, production and sale of

MAGIC TAPE

hook-and-loop fasteners,

MAGILOCK

extrusion molded hook fasteners and other related hook-and-loop fastener products.
(Note: The Company holds a 60% share of the Japanese market for hook-and-loop fasteners.)