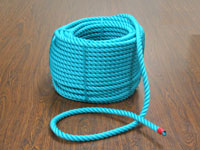 Kuraray Co., Ltd. has developed a new specialized compound yarn made with a proprietary core-sheath construction for use in making rope. Sale of the new product will commence on May 1, 2008.
The product possesses a proprietary core-sheath construction created through a specialty compound consisting of continuous polyester filament core thread and green, sheath thread of spun-dyed KURALON spun yarn. The combined features of the continuous polyester filament, which demonstrates high tensile strength, low elongation, and dimensional stability, and KURALON spun yarn, which has an easy feel for handling comfort and demonstrates high weather resistance, form a well-balanced compound material. KURALON spun yarn sheath thread is dyed using a spin-dye process-a method superior to standard thread-dying methods-that contributes to excellent color fastness able to withstand washing and sun exposure. Another feature of spun-dyed thread is that color from the dyed materials does not easily transfer onto substances with which it comes in contact.
Although Kuraray's previously released rope types using both KURALON spun yarn and a KURALON-polyester spun yarn mix were widely accepted, there was a market demand for higher tensile strength and lower elongation properties in onshore-use ropes. Responding to this need, Kuraray drew on its unique accumulation of technologies and command of materials to develop a third-generation rope type.
Potential applications include:

1.

Safety rope at road and building construction sites and event venues

2.

Safety tethers for working from high-rise structures such as ships, towers and chimneys
As a provider of a high-quality lineup of ropes, Kuraray will diligently work to expand and develop rope applications in the market.
Product Overview
1.

Features
(1)

The core thread employs a 280 dtex/48 f continuous polyester filament; the sheath thread is constructed of

KURALON

spun yarn.

(2)

High tensile strength and low elongation compared to existing products; does not easily shrink when wet and even after repeated wetting and drying, does not easily stiffen.

(3)

Use of green, spun-dyed core and sheath thread that does not easily fade after washing or from sun exposure.

(4)

Core and sheath fibers can be compounded to order, creating the potential for producing a variety of features.
2.

Specifications
Product
Cut length
(mm)
Tensile strength
(kN)
Elongation
(%)
Featured rope type
16
30.8
19.3
Existing product(s)
16
23.8
23.1
*

Property values are not guaranteed.
3.

Suggested Retail Price (tax included)

¥3,000 - 3,500/kg
4.

Sales Targets
| | |
| --- | --- |
| First year | ¥100 million |
| After three years | ¥300 million |