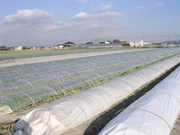 the heat-retaining nonwoven
fabric for tunnel culture
(white sheet at front)
KURARAYKURAFLEX CO., LTD. (Headquarters: Osaka; President: Mikihiro Hama) has developed a KURAFLEX nonwoven fabric product for use as a heat-retaining material for tunnel culture type commercial farming. Sales of the new product will commence on March 3, 2008.
Extreme drops in temperature at night during the cold season can slow crop growth or even result in frost damage. To counter these problems, KURARAYKURAFLEX has developed a sheet-type heat-retaining material made of highly bulky fibers, drawing on KURARAYKURAFLEX's long-nurtured nonwoven fabric manufacturing technology. Although the new nonwoven fabric product is thin and light, it boasts high heat-retaining property. In particular, when the new product is used in tunnel culturing employing the new "external heat-retention" installation method, which aims to prevent slowdowns in crop growth, heat-retention is improved as the material effectively blocks heat loss from the tunnel interior. This heat retentiveness dramatically improves productivity, with significant results having been attained, especially in lettuce farming.
One example, the trial use of the new KURAFLEX product at a lettuce farm (Okayama Fujita Lettuce Association) located near the Company's Okayama Plant delivered the following results.
(1)

Larger, higher quality lettuces

(2)

Shorter culture period due to growth promotion

(3)

Shorter harvest period due to uniform growth (enabling mass-harvesting)
KURARAYKURAFLEX will promote the sale of this new product for application in lettuce farming, while expanding the scope of applications to the cultivation of other vegetables.
Product Overview
1.

Features
(1)

High heat-retentiveness

(2)

Superior usability due to its thinness and lightness
2.

Specifications
(1)

200cm width on 50m rolls

(2)

200cm width on 100m rolls
3.

Suggested Retail Price

¥165/m² to ¥180/m² (without tax)
4.

Sales Targets
| | |
| --- | --- |
| First year | ¥50 million |
| After three years | ¥300 million |
Overview of KURARAYKURAFLEX Co., Ltd.
Headquarters
Shin Hankyu Building
1-12-39 Umeda, Kita-ku, Osaka 530-8611 Japan
President
Mikihiro Hama
Capital
¥100 million
Number of employees
130 (as of March 31, 2007)
Business activities
Manufacture, processing and sale of nonwoven fabrics (Brand name: KURAFLEX) and nonwoven fabric products