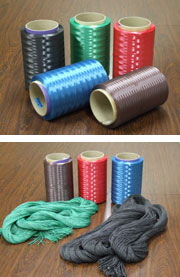 Kuraray Co., Ltd. has completed development related to the dyeing of raw VECTRAN polyarylate superfiber. Having created five color variations, Kuraray plans to commence the full-fledged marketing of this new product from the beginning of March 2008.
A super-high-performance fiber featuring ultra-high strength and a high Young's modulus, VECTRAN boasts low creep, low moisture absorbability, high tenacity at extremely low temperatures, abrasion resistance in wet conditions and other properties that competing superfibers do not have. In addition to its existing applications, such as its use in the fisheries industry, VECTRAN is increasingly employed in new applications in various industries in Japan. Such applications include earphone cables, tension members for stratospheric airship sheathing, volleyball and tennis nets and ropes, plastic reinforcement materials, ropes for marine research and experimental sacks for transporting fresh water by sea. VECTRAN has been used by NASA for the special landing airbags the agency's Mars exploration vehicle was equipped with and, more recently, for protective gloves, ropes and groundsheets used as sheathing, all of which represent uses that require the very high performance attributes offered by VECTRAN.
VECTRAN raw fiber can be dyed(*) due to its unique manufacturing process. Kuraray offers five color variations, having recently added a new color, brown, to the existing choices of black, green, blue and red.
VECTRAN superfiber boasts ultra-high strength, thinness, lightness, low elongation, weather resistance, abrasion resistance and the ability to dampen vibrations, and the variety of colors it is available in makes it highly suitable for many applications in a range of fields. Black raw fiber is mainly used as an alternative for wire in fishing nets, nets for spectator sports and accordion screen windows and is expected to find further use in the large-scale fixed netting used by industrial fisheries. Green raw fiber is found in nets used for golf practice and spectator sports, receiving high acclaim for lightness, usability, low visibility and wind permeability. Blue raw fiber has received favorable reviews for its use as a wire alternative in volleyball and tennis nets as it does not cause the shaggy wires conventional materials deteriorate into while demonstrating the high flexibility and usability of a fiber. Red raw fiber is used primarily as base fabric for table-tennis paddles, taking advantage of VECTRAN's vibration damping property to make table-tennis players feel a solid impact when they hit the ball. Kuraray plans to introduce the new brown raw fiber for the use in nets for golf practice and spectator sports as well as fishing nets.
Kuraray is now considering the development of orange and pink raw fibers. A wider variety of colors will enable the Company to pioneer new industrial, engineering and sports applications, as well as new applications in other fields.
*

Raw-Fiber Dyeing
This is a method of dyeing fibers and textiles by incorporating coloring materials into resins. The melt spinning process used for the manufacture of

VECTRAN

superfiber uses pigments as the coloring materials. The selection of pigments determines the color of the finished fibers and textiles. In general, raw-dyed fiber, sometimes referred to as "dope-dyed filament," demonstrates superior color fastness against laundering and sunlight, while leaching very little color onto objects that come into contact with it.