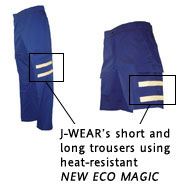 Kuraray Fastening Co., Ltd. (Headquarters: Osaka; President: Mitsuhiko Takaoka; hereafter "Kuraray Fastening"), a manufacturer and marketer of MAGIC TAPE hook and loop fasteners and MAGILOCK extrusion-molded hook fasteners, has participated in the Open Lab system implemented by the Japan Aerospace Exploration Agency (JAXA). On this occasion, it has determined that Kuraray Fastening's MAGIC TAPE hook-and-loop fastener will be used for the clothing ("J-WEAR") that Japanese astronaut Takao Doi will wear during his stay at the International Space Station ("ISS").
In the "Living Unit for Outer Space Life in the Near Future" (Leader: Professor Yoshiko Taya, Division of Clothing, Graduate School of Home Economies, Japan Women's University; hereafter "Unit"), one of the joint study themes carried out at the Open Lab, various R&D activities have been conducted for onboard garments for the purpose of supporting people's life in the ISS. In the Unit's development of a daily outfit for life aboard a spaceship, Kuraray's heat-resistant NEW ECO MAGIC(*) of the MAGIC TAPE lineup was employed as a part of space materials creation because such materials require both safety and comfort.
The heat-resistant NEW ECO MAGIC uses polypropylene sulfide (PPS) fibers with excellent heat and flame resistance. They are environmentally toxin-free, also boasting excellence in such onboard requirements as safety and offgas venting operations. In addition, the NEW ECO MAGIC has the advantage of providing less discomfort in one's motion compared with other hook-and-loop fasteners, owing to its soft texture. NEW ECO MAGIC will be used on the sides of short and long trousers of J-WEAR, which consists of a shirt, pants, trousers, trunks-type underwear and socks, for practical use in removable outer pockets and fixing objects (stationery including notebooks and pencils, as well as food trays) in the zero-gravity environment.
Kuraray plans to contribute to the development of the aerospace industry, while expanding the sales of NEW ECO MAGIC by means of the environment-responsive production system.
*

About

NEW ECO MAGIC


In 2002, Kuraray changed

ECO MAGIC

's back coating agent from an organic solvent to an inorganic one to reinforce the back side of the material. In 2004, the Company succeeded in establishing a new production system that doses not use a back-coating agent at all. The

NEW ECO MAGIC

provides higher quality and more eco-friendly features as a hook-and-loop fastener developed and manufactured in this system. Compared with the existing production system using organic, solvent-type back-coating agent, the new system can reduce approximately 30% (calculated by Kuraray on a standard goods basis) of greenhouse gas emissions (converted to CO2) through all the manufacturing stages, from material production to disposal.
1. Features of heat-resistant
NEW ECO MAGIC
(1)

The product uses over 90% PPS fiber so it can endure high temperatures (up to 250 degrees).

(2)

After exposure to high temperatures (200 degrees for 24 hours), the engaging capacity of the hook-and-loop fastener hardly decreases.

(3)

With main ingredients being PPS fiber using no back-coating agent,

NEW ECO MAGIC

boasts self-extinguishing properties so that it will pass inflammability tests for automobiles (based on the FMVSS horizontal method) and for aircraft (FAR.PART25.853B).

(4)

The smoke quantity produced through combustion is significantly small compared with that from existing heat-resistant products. Therefore, it can significantly reduce lead time compared to the traditional production process.
2. "Open Lab" system
| | |
| --- | --- |
| Sponsored by | the Japan Aerospace Exploration Agency (JAXA) |
| Objective | This program aims for the creation of new space businesses and applies existing technologies to outer space from a collaboration between private companies with unique business ideas and technological excellence and JAXA, with its knowledge of space technologies |
| System | Companies can participate in the system through registration on JAXA Web site. When a company is certified as a unit member, it can receive technological advice from JAXA, and in cases where the company submits an excellent idea, such company can utilize JAXA's research funds. |
3. Living Unit for Outer Space Life in the Near Future
| | |
| --- | --- |
| Unit leader | Professor Yoshiko Taya of Japan Women's University |
| Objective | Development of new onboard garments with various functions necessary aboard a spaceship by incorporating technologies of private companies that are/are not involved in space development, with the aim of providing astronauts with a comfortable lifestyle aboard a spaceship |
| Participants | GOLDWIN TECHNICAL CENTER, INC., SHIMA SEIKI MFG., LTD., Kuraray Fastening Co., Ltd., Toray Industries, Inc., Space Systems Development Corporation |