As part of a new business ad campaign, Kuraray announces the launch of its new TV commercial starring Riko Narumi that begins airing nationwide Saturday, November 17, 2007.
The catchphrase for the campaign is 'Mirabakesso', which is a contraction of Mirai ni Bakeru Shinsozai. Translated from Japanese, it means "new materials that transform into the future." The feel of the word "bakeru" itself, short and pithy, is impacting and meant to represent the Kuraray Group as a future-oriented chemicals maker motivated to innovate.
Riko Narumi, the star character of the commercial, is a 15-year old actress who has held several roles in mostly high-quality movies and television dramas. An actress known for the seriousness with which she pursues the craft, Ms. Narumi has developed a distinct presence within the industry. With a remarkable talent for performance, she will likely continue to be watched and applauded. The sense of sincerity that she is able to evoke, therefore, was a precise match for our catchphrase, "Mirai ni Bakeru Shinsozai," and is the reason why she was cast.
1. Summary of TV Commercial
(1)

Title

Kuraray Corporate Ad TV Commercial "Mirabakesso: The Train Episode" and "Mirabakesso: The School Episode." Running time: 15 seconds each
(2)

Broadcast schedule

November 17, 2007 (Saturday) - March 26, 2008 (Wednesday)
(1)

TV programming (nationwide)

(2)

Commercial spot airtime (Kanto and Kansai Regions)
November 17 (Saturday) - November 30 (Friday)
Other broadcasting details are provided below.
(3)

TV commercial story line
The Train Episode

A girl (Riko Narumi) boards an express train to an unknown destination. The train is bustling with passengers, including couples and families.
While it seems to be an ordinary day, it's not quite so.
A female snack vendor walks through the car calling out,
"Mirabakesso...Mirabakesso..."
In a seat nearby, a bratty child throws a tantrum, screaming "Mirabakesso!" to his mother, who turns around and observes a couple lovingly whispering to each other, "Mira," "Bakesso."
Finally, adding an extra surprise to the mix, a group of obviously non-Japanese people all wearing T-shirts printed with the word "Mirabakesso" crowd onto the train.
Confused and with chemical-esque air bubbles floating about her, the girl utters "Mirabakesso? What in the world is that?" The train continues on its path.

The School Episode

A girl (Riko Narumi) is alone in a school hallway after school has been let out.
While it seems to be an ordinary day, it's not quite so.
She inadvertently looks toward the schoolyard. The baseball team is running laps while chanting "Mirabakkeso! Mirabakesso!" in unison.
In the music room, the chorus club is singing a choral arrangement of "Mirabakesso." She turns around and observes a young couple coyly confessing their love for each other, "Mira," "Bakesso."
Led on by a strange premonition, she then peeks into the fine arts studio where, just as expected, she finds the same group of obviously non-Japanese people wearing the customary Mirabakkeso T-shirts in the midst of drawing sketches of a Mirabakkeso T-shirt-clad statue.
Confused and with air bubbles floating about her--imagery that is intended to indicate the link to Kuraray's chemical business--(the girl utters "Mirabakesso? What in the world is that?" She is left alone with her thoughts as after-school activities continue.
(4)

Production Staff
Production Company: LIGHT PUBLICITY CO., LTD
Creative Director: Nobuyuki Miyadera
Director: Yoshinari Kamiya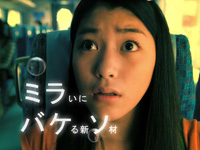 The Train Episode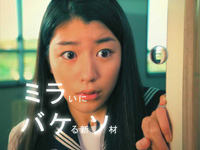 The School Episode

TV Commercial Concept Developed by the Production Staff
In order to encourage the public to get to know and take interest in Kuraray, we will use the catchphrase "Mirabakesso" as a magic word of sorts to attract the attention of TV viewers. The concept is getting viewers to remember the word and etch it into their minds so that they will remember it without consciously trying to put it to memory.
Using the intriguing power of this magic word, we will create a story that viewers become entranced with. The story itself involves a girl living in a half-reality half-fantasy Mirabakesso world.
The colors, music, Riko Narumi's dialogue and the strange and sudden appearance of Mirabakesso T-shirt-clad non-Japanese characters will all be part of the surreal imagery of the story.
2. Profile of Riko Narumi
Riko Narumi was born August 18, 1992 in Yokohama City, Kanagawa Prefecture. In July 2000, she made her TV drama debut as the young Naoko Yamada in a TV serial drama titled TRICK. In 2005, she was cast in her first leading role in the drama Ruri no Shima. In 2007, she starred in a series of films including Shindo, Ashita no Watashi no Tsukurikata, and Kimi ni shika Kikoenai, as well as dramas such as Enka no Jyo-ou and Juken no Kamisama. In a Fuji TV drama series titled Hachimitsu to Kuroba, which begins airing January 8, 2008, in the 9:00 pm Tuesday timeslot, Ms. Narumi will be playing the role of Hagumi Hanamoto. In addition, she has been cast as a voice for the dubbed Japanese version of the major motion picture, The Golden Compass, to be released in Japan in March 2008.
3. Behind the Scenes
The Train Episode
Filming took place in October on the Keisei Skyliner train. In order not to disturb passengers, two complete train cars were used for the shoot. The shoot took approximately three and a half hours, including preparation, which was equivalent to approximately two roundtrips between Ueno in Tokyo and Narita Airport (one-way is just over 50 minutes).
Everyone's talents, particularly Ms. Narumi's, were put to the test during this short time. Work was done very quickly and without a doubt Ms. Narumi was under a great deal of pressure. The 15-year old actress, however, who has been called an acting genius on numerous occasions, was able to successfully complete every take. The director, cameramen and other crewmembers were able to breathe a sigh of relief while also marveling at her skill.
The School Episode
The filming of this episode took place at a junior high school in Yokosuka City in Kanagawa Prefecture in late October this year. Although it was a Sunday, about 50 student extras were used, which really helped bring alive the authenticity of the school setting. Ms. Narumi, who was dressed for the part in a traditional Japanese junior high school "sailor" uniform, fit very naturally into the scene. The crewmembers were all sure that this shooting would also run smoothly.
As Ms. Narumi's character continuously encountered the odd references to "Mirabakesso" on the schoolyard, in the music room and in the fine arts studio, she was, just as in the train episode, faced with the challenge of expression. The director helped her breeze through the shoot, giving directions such as, "In this scene, you realize that something might be happening," and "Give a stronger expression of sudden surprise!" On several occasions, the director jumped right into the scenes to demonstrate, proving to be quite the thespian.
Riko Narumi admitted that when she first heard the catchphrase Mirabakesso, she thought, "What?" But, by the end of the filming, she said, "It's a fun word and now I can't seem to get it out of my head." The weather was on our side for the shoot as both days were sunny, leading the crew to come up with its own catchphrase, "Soraharesso," which means "clear skies" in Japanese.
4. Purpose of the Ad Campaign
Kuraray was established in 1926 with the purpose of commercializing rayon. The Company got its real start as a fiber and textile manufacturer after becoming the first in Japan to commercialize synthetic fiber, named KURALON, and the first in the world to commercialize man-made leather, named CLARINO. Today, over 70% of Kuraray's business is comprised of businesses other than fibers and textiles. Specifically, its chemical-related materials business continues to expand and is represented by EVAL, a resin distinguished by its excellent gas barrier properties and poval film that is essential in the manufacture of LCDs.
In addition, as of October 1, 2007, the industry classification of Kuraray shares on the Tokyo Stock Exchange and Osaka Securities Exchange was changed from "Textiles & Apparels" to "Chemicals." This change is representative of Kuraray's growth as and transformation into a chemicals manufacturer.
Accordingly, as the Company pursues ongoing growth in the chemicals business, this ad campaign, which includes the TV commercials as well as posters and Internet ads, was developed with the purpose of boosting Kuraray's corporate brand value.
The initial aim of this campaign was to raise awareness of Kuraray among Japan's younger generation, with the recognition that they are to become the future of the Company-that is the purpose of producing this TV commercial.
The catchphrase, "Mirai ni Bakeru Shinsozai," embedded with the word, "future," was settled on for exactly this reason, which is to show Kuraray's focus on its future progress as a chemicals manufacturer. We also tried to create an analogy between the potential of new materials and the potential of youth.
5. TV Commercial Broadcasting Schedule
(1)

TV programming (Nationwide)
(i)

Japan Men's Olympic Soccer Team and National Soccer Team Events

The following series of nine national-level soccer games, beginning November 17 with the AFC Final Round for the 2008 Beijing Olympics, Japan vs. Vietnam, broadcast in affiliation with TV Asahi by 24 networks nationwide through to March 26, 2008:

| | |
| --- | --- |
| Nov. 17 and 21, 2007 | Japan Men's Olympic Soccer Team competes in the AFC Final Round for the 2008 Beijing Olympic Games (two games) |
| Jan. 26 and 30, 2008 | Japan Men's National Soccer Team competes in international friendship matches (two games) |
| February 17, 20 and 23, 2008 | Japan Men's National Soccer Team competes in the East Asian Soccer Championships (three games) |
| Feb. 6 and Mar. 26, 2008 | Japan Men's National Soccer Team competes in the third-round series of AFC qualifiers for the 2010 FIFA World Cup South Africa (two games) |

(ii)

Tokyo Broadcasting System (TBS) science variety special Ichibyou no Sekai III (The World in a Second III)

(January 2008 special broadcast)
(2)

Commercial spot airtime (Kanto and Kansai Regions)
November 17 (Saturday) - November 30 (Friday)
Kanto Region: Nippon Television Network (NTV), TBS, Fuji Television Network (CX), TV Asahi (EX), TV Tokyo (TX)
Kansai Region: Yomiuri Telecasting (YTV), Mainichi Broadcasting System (MBS), Kansai Telecasting (KTV), Asahi Broadcasting (ABC), Television Osaka (TVO)
Broadcasting timeslot: weekdays 7:00 pm - 1:59 am; weekends 7:00 am - 1:59 am (on TX and TVO, weekends 7:00 pm - 1:59 am only)
Airing time also scheduled for the 2007 year-end and the New Year as well as the middle and end of January 2008.
Company Overview (as of September 2007)
| | |
| --- | --- |
| President | Yasuaki Wakui |
| Headquarters | 1-1-3 Otemachi, Chiyoda-ku, Tokyo |
| Business activities | Production and sale of chemicals and resins, fibers and textiles, high-performance materials, medical products and other related materials |
| Capital | ¥89.0 billion |
| Number of employees | 6,788 (on a consolidated basis) |
| Consolidated net sales | ¥385.3 billion (as of the fiscal year ended March 31, 2007) |