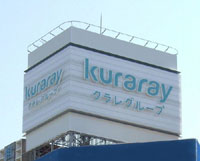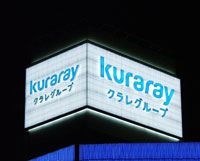 Kuraray has changed the design of the neon billboard that is clearly visible from the east exit of Okayama Station on the Sanyo bullet train line, inaugurating the display on the evening of October 3. The previous neon-lit "K-Kuraray" design (the letter "K" with "Kuraray" in Japanese characters), which had been flashing continuously since 2001, was changed to "kuraray - Kuraray Group" (the Romanized version of "kuraray" and "Kuraray Group" in Japanese characters). Flashing in a light blue neon color, "kuraray" is a simple design in lowercased letters that has been made the new corporate logo.
To ensure that the neon billboard is not a visual obstruction to the surrounding environment, a slender horizontal design was created with its upper part positioned approximately 40 meters above the ground. The main part of the billboard that faces JR Okayama Station's east exit measures approximately 6 meters in height and 12 meters in width, while the north side of the billboard facing Momotaro Street measures approximately 6 meters in height and 7.8 meters in width.
With June 2006 marking the 80th anniversary since its founding, Kuraray has changed its corporate logo from "K-Kuraray" to "kuraray" (all lowercased letters). Amidst the globalization of corporate activities and the Kuraray Group's evolving management integration, Kuraray has created a globally accepted unified corporate logo. The new "kuraray" corporate logo reflects the Kuraray Group's history and its future growth by: (1) using Romanized letters to signify global growth; (2) using lowercased letters to represent the Kuraray Group's growth potential; (3) using a sporty light blue color to express the Kuraray Group's mobility; and (4) using italics to write the "ray" of "rayon" for both our founding business of chemical fibers (rayon) and for optical materials, one of our new growth businesses.
Billboard location

Roof of the Sogo Building at 1-1 Motomachi, Okayama City
(in front of the east exit of JR Okayama Station)

Design

"kuraray - Kuraray Group"
(Romanized "kuraray" followed by "Kuraray Group" in Japanese characters)

Size

West side (main side facing JR Okayama Station): Neon sign 6 meters high and 12 meters wide
North side (facing Momotaro Street): Neon sign 6 meters high and 7.8 meters wide
East side: Same design illuminated
South side: No display

Hours of illumination

From sunset to approximately 11:30 PM

Cost

Approximately ¥40,000,000