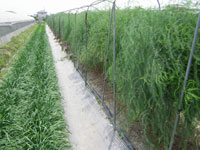 Water-permeable weed prevention sheet used
on a furrow in an asparagus field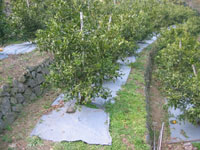 Non-woven fabric-based sheet used
for citrus trees
Kuraraykuraflex Co., Ltd. (Headquarters: Osaka; President: Mikihiro Hama) has developed water-permeable weed prevention sheets for agricultural and horticultural use which combine Kuraray's proprietary KURALON K-Ⅱ*-a high-strength fiber with hydrophilic properties-with a micro high-density, non-woven fabric. Product sales will begin on November 12. Kuraraykuraflex has developed the sheets to assist the growing of citrus fruits and other fruits and vegetables.
These water-permeable weed prevention sheets can be used for many years on earth in which farm crops are cultivated and to cover the spaces between rows of crops. The features of the sheet include: (1) water permeability for the swift penetration of water and fertilizer; (2) water retentiveness to control the evaporation of permeated soil moisture; (3) the capability to block sunlight (99% glare protection rate according to Kuraray's measurements) and thus prevent weed growth; (4) a heat shield capability to control any rise in soil temperature; (5) sufficient elasticity to enable easy fitting to uneven soil; and (6) a tear-resistant durability thanks to KURALON K-Ⅱ's high strength and high weather resistance. The sheets help reduce agricultural labor and promote efficiency by, for example, reducing the amount of weeding work in soil that has not been sprayed with herbicides, enabling the rapid cultivation of young trees, invigorating weak trees or shrubs and aiding crop growth from the ground up.
*

KURALON K-Ⅱ

KURALON K-Ⅱ

is a Kuraray-developed PVA fiber. It is a new type of synthetic faber produced by a solvent/wet cooled-gel spinning method that incorporates Kuraray's proprietary manufacturing technology. Available in high-strength and water-soluble versions, this non-woven fabric is of the high-strength type. Like

KURALON

, its features include high strength, low stretch rate and alkaline resistance.
Product Overview
1.

Features
(1)

Water permeability:

Due to rapid water and fertilizer penetration, watering can be performed over the sheet.

(2)

Water retentiveness:

Because soil moisture evaporation is controlled, frequent watering is not required.

(3)

Weed prevention:

Because sunlight is blocked, weed growth can be controlled, thus potentially reducing the amount of weeding work.

(4)

Heat shield capability:

Controls any rise in soil temperature.

(5)

Elasticity:

Possesses sufficient elasticity and softness to enable the sheet to be stretched over uneven soil.

(6)

Durability:

Rugged and tear resistant thanks to use of high-strength and highly weather resistant textiles.
2.

Specification
100cm wide and 100m long
65cm wide and 100m long
3.

Suggested Retail Price

¥150-170/m²
4.

Sales Targets
| | |
| --- | --- |
| First year | ¥50,000,000 |
| Third year | ¥300,000,000 |
Overview of Kuraraykuraflex Co., Ltd.
Headquarters
Shin Hankyu Building
1-12-39, Umeda, Kita-ku, Osaka 530-8611 Japan
President
Mikihiro Hama
Capital
¥100 million
No. of employees
130 (as of March 31, 2007)
Business activities
Manufacture, processing and sale of non-woven fabrics and non-woven fabric products