Each year Kuraray produces a highly popular, user-friendly calendar with Nature as its theme.
Continuing the theme, the 2008 calendar takes up the relationship between natural environments and the people who live in them.
This year, Kuraray has selected the photographs of roving photographer Takashi Nakagawa, a lover of travel who has journeyed around the world to preserve in photographic form the emotions and excitement that he encountered during his travels. Thus far, Mr. Nakagawa has circled the globe thirteen-and-a-half times and traveled 540,000 kilometers. His photographs, which reflect the activities of people living with Nature throughout the world, fully capture the hearts of his subjects.
Kuraray has produced a calendar using one of Mr. Nakagawa's photographs for each month (a total of 14-pages including cover and thumbnail photo summary).
The following provides an outline of the calendar and a profile of Mr. Nakagawa.
1. Calendar Features
(1)

Practical, functionally decorative and user friendly design.

(2)

Date column provides ample space for writing in appointments and notes, while dates are shown clearly and in large type so that they can be easily seen from a distance

(3)

Handy B3 size (53 cm high × 36 cm wide)

(4)

Thumbnail photo summary on page 14 shows photograph for each month with description.
2. Takashi Nakagawa-Photographer Profile
Born in Hyogo Prefecture, currently living in Nagano Prefecture
Left Japan at the age of 32 with his wife of two years in order to realize his childhood dream of traveling around the world
Self-taught in photography; he continues to take photos of landscapes, people and historical monuments to preserve the emotions and excitement encountered during his travels
Has visited 130 countries over a 30-year period. During this time, he has traveled 540,000 kilometers and visited 98 countries in his car
An Introduction to his Work

Photo Collection
Timeless (Shogakukan Inc.)
CD-ROM Photo Collection
Ancient Monuments (SynForest Inc.)
Books

Our Earth: The Aesthetics of a Woman Hiding (Tokyotosho)
Thirteen-and-a-Half Trips Around the World: A Husband and Wife's 30-Year Terrestrial Adventure (Kodansha Ltd.)
3. The 2008 Kuraray Calendar "A Ballad of People and Earth" Photograph Collection
Cover
A Bright and Lovely Mountain Pass
Shandur Pass, Pakistan
January
People Carrying Salt
Hodaida, Yemen
February
Children Heading Home
Tamri, Morocco
March
A Familiar Beach
Cox's Bazaar, Bangladesh
April
The Fragrance of Wind and Clouds
Karakol Valley Kyrgyzstan
May
Producing Rice on a Terraced Rice Paddy
Garhwal, India
June
Fishing for Salmon
Kenai, Alaska, USA
July
Coral Reef Oasis
North Male Atoll, Maldives
August
Morning Sea
Kunduchi, Outskirts of Dar es Salaam, Tanzania
September
Remote Journey
Duncansby Stacks, Scotland, U.K.
October
Rock Climbing
Uluru (Ayers Rock), Australia
November
Salt from the Earth
Dasht-e Lut, Iran
December
Sand Ocean
Large Sand Dune, Kerzaz, Western Algeria
(Page 14)
Photographer introduction and thumbnail photo summary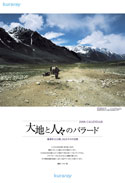 Cover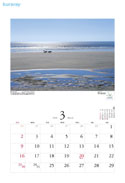 March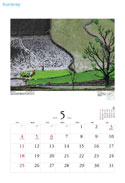 May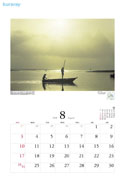 August