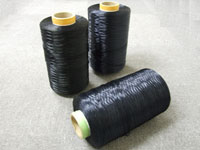 New Proprietary Electro-Conductive Fiber
"KURALON EC"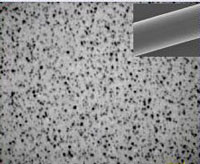 "KURALON EC"
Cross-Section
Kuraray Co., Ltd. has successfully developed "KURALON EC," a new type of electro-conductive fiber that employs a special metallic nanoparticle compound technology. Focusing on the interaction between hydroxyl group of polyvinyl alcohol and diverse metallic ions, the newly developed KURALON EC is a highly conductive polyvinyl alcohol fiber, on the interior of which a copper sulfide nanoparticle is minutely formed.
At present, electro-conductive fibers that contain micron-sized carbon black particles are widely used. However, by compounding nano-sized metallic particles, Kuraray was able to achieve high conductivity as a result of increasing the specific surface area and reducing the inter-particle distance. In addition, fibers with nonelectrolytic plating on their surface, so-called "metallic plated fibers," are also used as conductive fiber, but they have been plagued with problems related to the breakdown of the plated layer from bending, wear and saltwater corrosion and decreasing conductivity. Due to the conductive pathways on the fiber's interior and its superior durability, KURALON EC is a promising material that could potentially solve these problems.
Furthermore, the conductive area, which the electro-conductive fiber containing the above-mentioned black carbon or the metallic plated fiber could not address, has been achieved in KURALON EC with the help of manufacturing innovation.
Broadly classifying performance into three areas, KURALON EC 1) exhibits high conductivity due to the nano-sized effect of conductive particles; 2) has an exterior that is not easily damaged from bending and wear due to conductive pathways on the fiber interior and superior durability; and 3) has a high level of configuration freedom and conductivity control capability.
The following practical applications exploit the features of KURALON EC: 1) Antistatic materials (anti-static brushes, antistatic tapes, etc.); 2) Electromagnetic shielding materials (wire sleeve material, etc.); 3) Electromagnetic wave absorption materials (partitions, construction materials, wall and interior materials, etc.); 4) Sensor switch materials (urine absorption pads with sensors, fabric switches, etc.); and 5) Sheet heating elements (car seat heaters).
The diversification of data communication tools resulting from the onset of a ubiquitous information society has highlighted the need for countermeasures against electromagnetic waves. Kuraray proposes the adoption fibrous electromagnetic wave absorption materials that are lightweight and can be flexibly processed so as to reduce electric field energy in confined spaces such as automobiles, trains, and other vehicles or in offices.