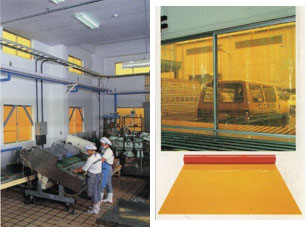 Kuraray Plastics Co., Ltd. (Headquarters: Osaka City; President: Katsuhiko Kishi, referred to herein as Kuraray Plastics) has developed a tarpaulin sheet which provides superior insect deterrence without compromising the comfort of the working environment. The sheet, which will go on sale nationally on September 18, 2007, works by cutting the wavelength at which insects perceive light.
The insect-deterrent sheet is a special soft composite resin film supplied by Achilles Corporation (Headquarters: Tokyo; President: Hiroshi Nakata) and laminated at Kuraray Plastics' Ibuki Plant (Gifu Prefecture) with a polyester thread mesh weave. Orange colored, the new sheet augments the existing lineup of transparent sheets and features superior insect-deterrent properties.
As a way of demonstrating the sheet's ability to deter insects, black light-to which insects are attracted but, being in the ultraviolet range, is invisible to humans-was shone through a test film of standard vinyl and a record made of the number of insects that, having flown into the film, were caught in a water tank placed beneath. When a comparison was made, again using black light but with an insect-deterrent curtain covered with the new transparent film, the number of fallen insects was significantly decreased. The experiment measured the deterrent effect on insects that are attracted to light; its effectiveness on insects attracted by heat or odor was outside the scope of this experiment.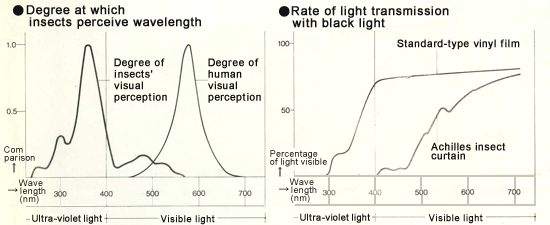 Mechanism of the Insect-Deterrent Effect (data provided by Achilles Corporation)
Applications that would make use of the effective insect deterrence displayed include: interior factory partitions, simple tent windows for open-air events, sports, camping and other outdoor activities, in outdoor lighting or to protect lights, and in horticultural or agricultural plant cultivation facilities.
Features
(1)

Superior insect-deterrent and flameproof properties

(2)

Twice as effective as regular transparent film in deterring insects
Applications
(1)

Interior factory partitions

(2)

Simple tent windows for open-air events, sports, camping and other outdoor activities

(3)

Outdoor lighting and to protect lights

(4)

Horticultural or agricultural plant cultivation facilities
Standard Characteristics
| | |
| --- | --- |
| Product number | BC-5300F |
| Width | 185cm |
| Thickness | 0.25mm |
| No. of coils | 50 per meter |
| Weight | 331g/sq. meter |
| Color | Orange (1 color) |
Reference for Retail Price
Product number
BC-5300F
¥1,500 - ¥1,800/m
Sales Target
| | |
| --- | --- |
| First year | ¥30 million |
| In three years | ¥150 million |
Overview of Achilles Corporation
| | |
| --- | --- |
| Headquarters | 22 Daikyo-cho, Shinjuku-ku, Tokyo 160-8885, Japan |
| President | Hiroshi Nakata |
| Capital | ¥14,640 million |
| Employees | 1,723 (at March 31, 2007) |
| Business activities | Using core technologies in processing plastics, the company manufactures and sells functional film, synthetic leather and other materials for use in housing, civil engineering and construction, automotive-related products, electronics-related products, welfare-related products, shoes, and other fields. |
Overview of Kuraray Plastics Co., Ltd.
Headquarters
Shin Hankyu Building, Umeda 1-12-39, Kita-ku, Osaka 530-8611, Japan
President
Katsuhiko Kishi
Capital
¥180 million
Employees
194 (at March 31, 2007)
Business activities
Processing and sales rubber and plastic hoses, all types of molded products, water piping, laminated products,

SEPTON

compound and molded products.