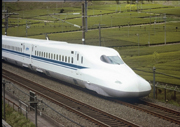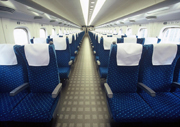 Kuraray Group announces that MAGIC TAPE fasteners and styrenic thermoplastic elastomer SEPTON compound-produced by Kuraray Group companies Kuraray Fastening Co., Ltd. and Kuraray Plastics Co., Ltd., respectively-are used in the fifth-generation N700 Series bullet train, which has been in service on the Tokaido and Sanyo lines since July 1, 2007.
Based on the previous 700 Series, these new trains are the fastest, most advanced rolling stock on the Tokaido and Sanyo lines. The design of the cars was concept-driven, with the intention of improving interior comfort, including traveling performance, ride quality and cabin ambience, as well as environmental compatibility, such as exterior noise abatement.
Kuraray Group conducted dedicated product R&D to bring the N700 Series concept to fruition. In addition to the sought-after weight saving and safety assurance, the R&D for the N700 Series involved developing materials to help create a calm and relaxed space that would not be tiring for passengers, even when they must spend long periods seated.
As in previous bullet trains, Kuraray's MAGIC TAPE is used on the seats in both first-class and regular cars to anchor headrest covers and as attachment points for the seat covers. In addition, novel applications for MAGIC TAPE were found, for example, it is used in the form of thin, mushroom-shaped hook tapes to prevent seat covers from becoming wrinkled and knit loops are used to secure cushion pads.
Kuraray Plastics' styrenic thermoplastic elastomer SEPTON compound is being used for the first time for regular car seat armrest components. Not only do these components pass the flammability tests for materials used in railcars, by being softer than conventional polycarbonate they are more pleasant to the touch. Moreover, the clatter of hard objects knocking into the armrests is considerably reduced.