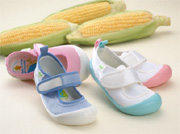 "Biomass Hadashikko 10" (left)
"Biomass Hadashikko 20" (right)
MoonStar Company (Headquarters: Kurume City, Fukuoka Prefecture; President: Kaoru Motomura, referred to herein as MoonStar), and the Kuraray Group company Kuraray Plastics Co., Ltd. (Headquarters: Osaka City; President: Katsuhiko Kishi, referred to herein as Kuraray Plastics), have achieved an early success-a success in keeping with worldwide initiatives to reduce CO2 emissions and curb global warming-by jointly developing "Biomass Hadashikko" shoes made of biomass material (soft polylactic acid resin).
Polylactic acid is well-known as a material made from cornstarch or other starch, and MoonStar has been considering how to apply the material to shoes for several years. Kuraray Plastics turned its attention to softening the resin, quickly overcoming the disadvantages of its hard and brittle nature and its weak resistance to heat, and succeeding in developing a suitable material for shoe soles. This, the world's first commercialization of the resin in a shoe sole, was made possible through long cooperation between the two companies on new product development.
Since obtaining ISO14001 certification in 2000, MoonStar has continued to develop products that reduce environmental burden. The new product uses soft polylactic acid resin in the sole, while polylactic acid fiber is used in the material for the uppers. The "Biomass Hadashikko" which are intended as indoor footwear for preschoolers, will be successively launched primarily through department stores nationwide under a sales slogan that translates as "corn shoes."
MoonStar has systemized its many years of shoemaking research, design and production know-how in its "Comfort Saver" technology, which is also incorporated in the biomass material. As a result, MoonStar offers a product with which customers can empathize as strengthening environmental protection measures and contributing to worldwide efforts to curb global warming.
"Biomass Hadashikko" Features

(1)

World's first biomass material shoes

Biomass material from vegetable derivatives is used in the sole and uppers.

(2)

Sanitized with Ag anti-bacterial treatment

The powerful silver ion process provides safe, hygienic anti-bacterial and anti-fungal treatment.

(3)

Foot-shaped lasts

Designed with a wider area at the toe, based on data from children's foot measurements.

(4)

Half-sizes

Sized in 0.5cm increments for an exact fit.

(5)

Instep adjustment strap

The instep strap can be adjusted for an exact fit with the surface fastener even by small children.

(6)

Barefoot sensation

The design of the last and sole, as well as the cut of the materials, allow the toes to move freely and the floor surface to be felt. The excellent lightness and flexibility give a sensation of being barefoot when the shoes are worn.
Product Overview
Brand
"Biomass Hadashikko" 10
"Biomass Hadashikko" 20
Colors
White, pink, pale blue
White, white/pink, white/mint
Sizes
14.0cm - 21.0cm (half-sizes available)
Width
EE
Materials
Uppers: polylactic acid fiber, polyester fiber
Sole: soft polylactic acid resin
Retail price
¥2,900 (with consumption tax; ¥3,045)
Sales launch
Late February 2008
Sales channel
Major department stores nationwide and other outlets
Reference: Significance and Effect of Polylactic Acid Resin
Much of the energy used in contemporary lifestyles and industrial practices is provided by fossil fuels such as oil, which contain carbon. The continuing use of such fuels is increasing CO2 levels in the atmosphere, making the earth's climate susceptible to warming. Biomass is the term given to the use of energy from organic, recyclable resources, such as derivatives of corn and other vegetables, which do not use fossil fuels.
MoonStar's product is the world's first application in the footwear field of this new material developed by the Kuraray Group from a vegetable derivative, soft polylactic acid resin. Although the material emits CO2,when burnt, the plant component absorbs CO2 when growing, giving it a CO2 emission-neutral environmental appraisal.
Since biomass materials are plant life that uses sunlight, water and CO2 for their growth, they are part of a sustainable and reusable cycle, and are expected to see increasingly widespread use in curbing global warming.
MoonStar Company

(Previously known as Tsukiboshi Kasei Kabushiki Kaisha, the company changed its name to Kabushiki Kaisha MoonStar (MoonStar Company) on July 1, 2006)

About "Comfort Saver"

MoonStar's promise to provide foot comfort is echoed in its brand identity as "The Foot Comfort Company."
Over the more than 130 years that have passed since its founding, MoonStar has collated the knowledge borne of its experience in all matters regarding footwear and incorporated this knowledge in its "Comfort Saver" technology. Encompassing physiology, ergonomics and production technology, there are 16 principal techniques supported by 90 adaptive techniques. Skillfully blending each individual technique to produce the perfectly balanced shoe, MoonStar will continue to offer products that fulfill the promise of customer satisfaction and comfort.