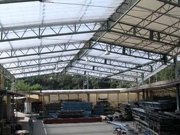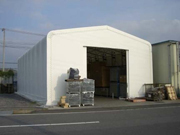 Kuraray Plastics Co., Ltd. (Headquarters: Osaka, President: Katsuhiko Kishi) has developed two types of heat shield tarpaulin sheet (white opaque and semi-transparent) that effectively reduce solar heat and thus heat under cover, for instance inside tents. Sales will commence from July 2007. The sheet applications range from interior-related products such as indoor blinds to construction sites and farms as well as resort and event facilities.
Heat shield tarpaulin is a laminated sheet consisting of polyester fabric sandwiched between films that reflect the sunlight's near-infrared rays and thus reduce the amount of heat that penetrates inside. Furthermore, the sheet displays a superior heat shield effect by curbing the rise in temperature of the sheet itself. Both white opaque and semi-transparent types are capable of reducing the temperature rise by around 5℃ compared with other general Kuraray Plastics tarpaulin sheet.
Both types are durable thanks to the cancellous structure of the basic fabric, but the semi-transparent rough mesh type enables it to have see-through, natural lighting qualities that keep interiors such as those in tents brighter than the white opaque type.
Last year, Kuraray Plastics developed in succession two eco-friendly tarpaulin sheets: one consisting of a combination of inorganic components that dramatically reduces the amount of carbon dioxide (CO2) emissions generated during the waste incineration process, the other made from plant-derived resin. As the third in the series, this heat shield tarpaulin appeals for its eco-friendly properties in combating the heat-island phenomenon, while naturally saving energy and cutting costs by reducing the need for lighting and air conditioning.
1.

Special features

Cut down sunlight's near-infrared rays and thus reduce temperature rise by around 5℃ (compared with other Kuraray Plastics products)
Maintain permeation properties and natural lighting qualities while curbing temperature rise
Offer eco-friendly energy and cost reductions
Equivalent performance (strength, workability) to conventional tarpaulin sheets

2.

Applications

Simple storage, equipment storage yards, workplaces
Simple tents (for general events, sports events), tent awnings (blinds), parasols
Agricultural cultivation facilities; animal housing such as poultry houses, pigpens, etc.; pet housing
Interior blinds, shutters, etc.

3.

Specifications

| | |
| --- | --- |
| White opaque type | 94cm wide × 50m long; 0.58mm thick; weight 600g / m² |
| Semi-transparent type | 185cm wide × 50m long; 0.15mm thick; weight 240g / m² |

4.

Retail price estimates

| | |
| --- | --- |
| White opaque type | ¥2,000 - ¥2,500 / m² |
| Semi-transparent type | ¥1,000 - ¥1,200 / m² |

5.

Sales targets

| | |
| --- | --- |
| First year | ¥50 million |
| third year | ¥300 million |
Overview of Kuraray Plastic Co., Ltd.
Headquarters
Shin-Hankyu Building, 1-12-39 Umeda, Kita-ku, Osaka 530-8611, Japan
President
Katsuhiko Kishi
Capital
¥180 million
No. of employees
194 (as of March 31, 2007)
Business activities
Manufacture, processing and sale of rubber and plastic hoses and molded products, water and sewage pipes, laminated products, and

SEPTON

compounds and molded materials