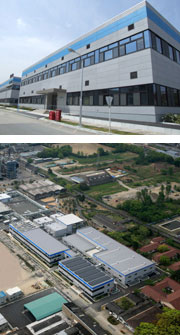 Having identified the creation of new businesses as one of its most important management priorities, Kuraray decided in July 2005 to reorganize the Kurashiki Plant as one aspect of its efforts to reinforce its research and development (R&D) organization. Since August 2005, the Company has progressed with construction and initiatives to relocate the plant from the Sakazu area of Kurashiki City, where Kuraray has its roots, to the city's Tamashima area. Kuraray kicked off the new fiscal year having completed the move at the end of March 2007.
The previous Kurashiki Plant consisted of three separate bases: the Kurashiki site in Sakazu, which was a development and manufacturing facility, the Research Laboratory, which was an R&D base, and the Shin-Kurashiki site manufacturing facility. Among these, the structures and facilities at the Kurashiki Sakazu site had aged, making sweeping repairs and rebuilding a priority issue. Furthermore, in light of the limitations imposed by the urbanization of the surrounding area, the Company decided to relocate and consolidate the majority of development functions to the Shin-Kurashiki site. These decisions led to the completion of the Manufacturing Technology Development Center. Except for a portion of manufacturing equipment and administrative operations, the Kurashiki Sakazu site's operations have been fully transferred to Shin-Kurashiki in order to make effective use of infrastructure and create a more efficient production structure. Equipment for manufacturing medical-related products will remain at the Kurashiki Sakazu site, and a portion of the Research Laboratory's development functions will be moved from Sakazu, with the aim of efficient management of the respective facilities.
The Manufacturing Technology Development Center that opened today at the Shin-Kurashiki site features not only leading-edge development facilities but also contributes to environmental preservation by making use of the latest energy-conserving and new energy technologies in its air conditioning, lighting, machinery and power systems.
From today, at the Shin-Kurashiki site will be renamed the "Kurashiki Plant," and it shall fittingly play a leading role as one of the Kuraray Group's production and development bases for creating new businesses, as well as one of the Group's advanced plants for manufacturing cutting-edge new products.
Overview of Kuraray's New Kurashiki Plant
| | Kurashiki Plant | Kurashiki site (Sakazu) | Kurashiki Research Laboratories |
| --- | --- | --- | --- |
| Address | Otoshima 7471, Tamashima, Kurashiki | Sakazu 1621, Kurashiki | Sakazu 2045-1, Kurashiki |
| Started operations | 1956 | 1926 | 1968 |
| General Manager | Katsuhiko Nishiguchi | Katsuhiko Nishiguchi | Katsuhiko Nishiguchi |
| Business activities | Development and production of optical-use poval film, polyester fiber, industrial membranes, medical products, film and other goods for food packaging | Development and production of medical products | Basic research |
| Facilities | Manufacturing Technology Development Center | Kuraray headquarters offices | Research laboratories |
| Lot size | 410,000 m² | 220,000 m² | 442,000 m² |
| Employees (as of May 2007) | 611 | 421 | 104 |
History of the Kurashiki Plant (Former Shin-Kurashiki Site)
1956
Commenced manufacturing of rayon fiber (terminated in 2001)
1964
Commenced manufacturing of polyester staple fiber
(spun off as Kuraray Tamashima Co., Ltd. in 2003)
1998
Commenced thermal recycling (use of waste plastic as fuel for boilers)
2004
Commenced biomass power generation (use of wood scrap from demolition as fuel for boilers)
2005
Commenced manufacturing of optical-use poval film
2005
Announced plan for reorganization of the Kurashiki Plant
Overview of the Manufacturing Technology Development Center
1.

Purposes for constructing the Center
a.

Pursue synergy effects in R&D by consolidating dispersed research facilities

b.

Improve safety levels by standardizing safety rules in R&D activities

c.

Accelerate business expansion by promoting collaboration between R&D and manufacturing operations

d.

Promote efficient management and inventory reduction through centralized purchasing (of materials, testing reagents, etc.)

e.

Eliminate redundancy of facilities through sharing of testing equipment
2.

Personnel

170
3.

Type of facilities

Development office, development and testing building, development and processing building, storage, bench-type test machinery area, etc
4.

Building area

Approximately 9,600 m²
5.

Principal operations

Development of technology related to fibers and textile materials, poval film, poval resins, EVAL and others; Technology Development Center
6.

Energy conserving features
a.

Hydrate-slurry air conditioning system for reduced power usage

b.

Reduced heat from air conditioner through use of material with outstanding heat-reflection properties for the roof and in windows

c.

High-efficiency lighting equipment and sensor system for energy-saving lighting
7.

New energy features

Solar power equipment installed on roof for reduction of power consumption
*

In 1987, the Kurashiki Plant became the first plant in Japan to introduce a circulating fluidized bed boiler. Workers at the plant have also endeavored to reduce CO2 emissions and use of fossil fuels by making use of waste plastics, concentrated solids and biomass in fuels.