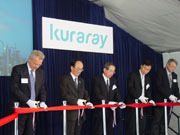 Kuraray Co., Ltd. ("Kuraray" or "the Company") today announced that its subsidiary EVAL COMPANY OF AMERICA (Texas, U.S.A.) had successfully completed trial operations for increasing the production of EVOH, an ethylene vinyl alcohol polymer resin, (which the Company markets under the trade name "EVAL"), utilizing newly expanded manufacturing facilities. As a part of its plans to increase annual EVAL production by 24,000 tons per year, EVAL COMPANY OF AMERICA has commenced full-fledged production of an additional 12,000 tons, to 35,000 tons, making the facility the world's largest in terms of annual EVOH production capacity.
Kuraray was the first to develop and commercialize this high-performance resin, which it launched in 1972. Since then, Kuraray has forged a leadership position in the market and currently maintains a 70% global market share. Taking full advantage of EVAL's gas barrier performance-the highest of any plastic (approximately 10,000 times that of ordinary polyethylenes)-Kuraray has continued to expand its business, focusing mainly on the resin's use as food packaging materials. In areas outside the food sector, the use of EVAL has also expanded in recent years; the resin has proven ideal for use in automobile fuel tanks due to its ability to positively address the need for fuel gas effluent control, an area where demand is steadily increasing, particularly in Japan, Europe and the United States. In parts of South America and Asia, where chilled food distribution is yet to be fully developed, EVAL is used as a material for transporting packaged milk at ambient temperatures. Accordingly, expectations are high for an upswing in demand in regions outside Japan, Europe and the United States.
In addition to EVAL COMPANY OF AMERICA, Kuraray's EVAL manufacturing facilities include its Okayama Plant (Okayama Prefecture, 10,000 tons per year) and EVAL EUROPE N.V. (Belgium, 24,000 tons per year). This expansion at EVAL COMPANY OF AMERICA has augmented the Company's tripolar manufacturing structure, which encompasses Japan, Europe and the United States and currently produces 69,000 tons per year. Moreover, Kuraray plans to boost production capacity in support of full-fledged operations at expanded facilities in the United States. Responding to an anticipated surge in EVAL demand, the Company is working toward increasing its annual production capacity an additional 12,000 tons by 2008.
EVAL Production Capacity

| | Prior to Expansion | After Expansion | Target in 2008 |
| --- | --- | --- | --- |
| EVAL COMPANY OF AMERICA | 23 | 35 | 47 |
| Okayama Plant (Japan) | 10 | 10 | 10 |
| EVAL EUROPE N.V. (Belgium) | 24 | 24 | 24 |
| Total | 57 | 69 | 81 |
(Ktons per year)
At an opening ceremony held in the United States on April 18, 2007, Yasuaki Wakui, president of the Company, commented as follows, emphasizing the importance environmental awareness in the Group's operations.
"In the pursuit of our corporate mission, we in the Kuraray Group are committed to opening new fields of business using pioneering technology and contributing to an improved natural environment and quality of life. On this basis, we will endeavor to consistently enhance our technological capabilities. This state-of-the-art EVAL manufacturing facility will enable the Company to reduce its emission of volatile organic compounds."
Looking ahead, Kuraray will continue to promote its EVAL business as a core activity. Conscious of the global environment, the Company will develop innovative products and cultivate new markets in an effort to appropriately address market needs in gas barrier-related fields. Through these means, Kuraray will secure a leading position in the global markets in which it operates.
Additional Information
1.

Principal Applications and Relative Weights
| | |
| --- | --- |
| Food packaging material | 70% (Mayonnaise, ketchup, tea leaves, fruit and vegetable juices, fruits, fresh meats, processed meats, etc.) |
| Non-food packaging materials | 30% (Automotive fuel tanks, pipes for floor heating systems, vacuum insulation sheets for refrigerators, etc.) |
2.

EVAL COMPANY OF AMERICA
| | |
| --- | --- |
| (1) Company name | EVAL COMPANY OF AMERICA |
| (2) Headquarters | Texas, U.S.A. |
| (3) Production capacity | 35,000 tons per year |
| (4) President | Nobuya Tomita |
| (5) Capital | US$4,150,000 |