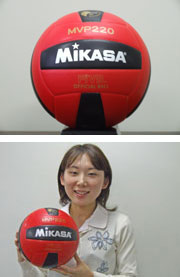 The new specially designed "MIKASA" volleyball (manufactured by Mikasa Corporation), made of CLARINO man-made leather created by Kuraray Co., Ltd., has been adopted as women's ball for use in the 2007 the Emperor's and the Empress's Cup All-Japan Volleyball Tournament. The new ball will be used in all tournament rounds from the semifinals of the preliminary prefectural qualifying rounds (from April through July), the block round (from September through October) and semifinal round (from December through January) to the semifinal and final matches of the final round on January 5 and 6, 2008.
The new ball to be used in the upcoming women's tournament will be a three-color special edition "MVP220 Model" in red and black with the image of a pheasant, Japan's national bird, printed in gold on its surface.
Since obtaining international certification in 2000, the MIKASA volleyball made of CLARINO has also seen action at such major international venues as the World Cup and the Olympics. It has also been adopted as the official ball of all volleyball tournaments sponsored by the International Volleyball Federation through 2012.
The MIKASA volleyball made of CLARINO features excellent durability that enables it to withstand the intense activity that sports such as volleyball subject a ball to, and, thanks to its smooth, soft-to-the-touch feel, players rate the ball higher than natural leather balls for its comfortable feel and responsiveness. Even though the surface coating layer is only one-eighth the thickness of conventional ball coatings, Kuraray's technology ensures high durability. In addition, the ball's structure provides both shock absorption and superior bounce owing to the use of chemical softeners and a special softening process.
Kuraray's CLARINO man-made leather has been adopted not only for volleyballs but for use in the manufacture of a variety of shoes, balls, gloves and other items used in sports where high durability and functionality are needed. In addition, Kuraray has recently developed the TIRRENINA brand of next-generation, eco-friendly man-made leather, which combines the appearance and texture of natural leather with the superior functionality unique to man-made leather. As the top manufacturer of man-made leather, Kuraray is undertaking further technological development and launching a broad range of products.
Special New Women's Ball to Be Used in the Emperor's and the Empress's Cup All-Japan Volleyball Tournament
1. Features

Softer to the touch than natural leather
Coating technology enables high durability despite thinness of coating
Ball's structure offers both shock absorption and superior bounce

2. Specification

Circumference: 650-670 mm
Weight: 260-280 grams

3. Retail price
¥6,300 (tax included)
4. Manufacturer
Mikasa Corporation
Mikasa Corporation Overview
| | |
| --- | --- |
| 1. Headquarters | 3-11-2, Kusunoki-cho, Nishi-ku, Hiroshima City |
| 2. President | Taketoshi Saeki |
| 3. Capital | ¥120 million |
| 4. Employees | 181 |
| 5. Business | Rubber products manufacturer engaged in the development, manufacturing and sales of sporting and industrial goods |
2007 the Emperor's and the Empress's Cup All-Japan Volleyball Tournament
1. Sponsor
Japan Volleyball Association
2. Organizer
Volleyball Associations of each prefecture
3. Dates

| | |
| --- | --- |
| Preliminary prefectural qualifying round | April-July, 2007 |
| Block round | September-October, 2007 |
| Semifinal round | December 2007 and January 2-3, 2008 |
| Final round | January 5, 2008 (semifinal match), January 6, 2008 (final match) |

4. Eligibility
Teams and players, excluding elementary school pupils, that have validly registered based on the Japan Volleyball Association's registration regulations for fiscal 2007.