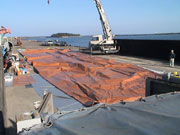 A water transportation
sack seen during assembly.
(Photos courtesy Japan
Water Agency/MTI)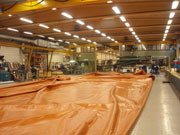 A water transportation
sack seen during manufacture.
(Photos courtesy Japan
Water Agency/MTI)
The Japan Water Agency and the Monohakobi Technology Institute (MTI), a Nippon Yusen Kabushiki Kaisha (NYK) subsidiary, are undertaking joint sea trials in which water transportation sacks filled with fresh water will be towed by a tugboat. The material used for the sacks is Kuraray's VECTRAN polyarylate superfiber.
Kuraray supplied the VECTRAN fiber to MTI, which had undertaken and completed the development of the water transportation sacks. This use of VECTRAN fiber is the latest of its capabilities to have been evaluated by MTI, which has a past history in VECTRAN's existing applications in the fisheries industry field, such as for rope, fishing nets, sheathing and envelopes for airships. The trial water transportation sacks-which are 44 meters long, 10 meters wide and 4 meters high, with a volume of approximately 1,000m3-are made from a compound material comprising VECTRAN and urethane resin.
As a high-performance fiber VECTRAN possesses a variety of special properties that are found in no other superfibers, such as exceptionally low creep, no moisture absorption, high tenacity at extremely low temperatures and abrasion resistance. In addition to applications such as in ropes for the fishing industry and marine exploration and as a plastic reinforcement material, VECTRAN has been used for the envelope tension members on the dirigible launched by Japan's Stratospheric Platform Concept program as well as for the special airbags used on the NASA rovers that landed on Mars in 2004. Extensive and remarkable uses have been made of VECTRAN's properties in a wide variety of applications.
The planned schedule calls for these water transportation sea trials, the first of their kind in Japan, to be conducted between March 2 and March 5. The port of Shingu in Wakayama Prefecture is supplying the water approximately 170 kilometers away to the port of Tomioka, Anan city in Tokushima Prefecture. One round trips will be completed, a one-way journey taking around 22 hours. It is planned that pumping tests and the like for the first trial consignment will be at Tomioka port on the March 3. Japan's Ministry of Economy, Trade and Industry is conducting these tests as part of its Survey into Securing Alternative Resources for Industrial-Use Water 2006. The aim is to confirm if tugboats can tow the sacks safely and without difficulty with a view to testing the commercial viability of rapid mobile water supply methods in the event of drought, natural disasters, etc.
Kuraray is making progress with the enlargement of the VECTRAN production facilities at Kuraray Saijo Co., Ltd. (Saijo City, Ehime Prefecture), where supply systems are being expanded and enhanced from the current capacity of 600 tons per year to 1,000 tons per year in October 2007. In anticipation of success in these water transportation sea trials, Kuraray will contribute to safeguarding the supply of large volumes of water in acute situations.