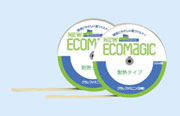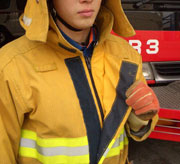 Kuraray Fastening Co., Ltd. (headquarters: Osaka, President: Mitsuhiko Takaoka; hereafter "Kuraray Fastening"), the manufacturer and marketer of MAGIC TAPE hook and loop fasteners and MAGILOCK, announced on March 1, 2007 the development of a heat-resistant version of the eco-friendly MAGIC TAPE (patent pending), which uses polyphenylene sulfide (PPS) fibers, a kind of super fiber with high heat resistance, on both the hook and loop sides of MAGIC TAPE.
Firefighters' uniforms and work clothing worn at welding sites and around blast furnaces use self-extinguishing flame-resistant material that prevents cloth from burning, even if it should catch fire. However, getting this same heat resistant performance in the sub-materials, including buttons, zippers, and fasteners, has been a difficult problem to surmount.
In response to this, Kuraray Fastening developed heat-resistant, eco-friendly MAGIC TAPE, a high heat-resistant hook-and-loop fastener, and it is utilizing PPS in virtually every thread and fiber in the hook and loop sides and foundation fabric. The PPS used has an LOI(*) value of nearly 40, retains its strength at temperatures of up to 200℃ and possesses outstanding acid and alkali resistance properties. In addition, to preserve fastening strength and prevent a loss of durability due to the loosening of threads during washing, heat-resistant, eco-friendly MAGIC TAPE does not use a back-coat agent (usually a polyurethane resin), normally used on the reverse side. As a result, thermal degradation and combustibility-formerly weaknesses of the eco-friendly hook and loop fastener and the back-coat agent-have both been eliminated.
Kuraray Fastening selected PPS fibers as the raw material for hook-and-loop fasteners because they are easy to process and are highly durable. Moreover, by employing a production method established in 2004 for woven hook-and-loop fasteners that are more eco-friendly, Kuraray Fastener was able to develop the industry's first heat-resistant type of eco-friendly MAGIC TAPE.
Kuraray Fastening will market this new product for a wide range of applications, including firefighters' uniforms, flight uniforms, and clothes used when welding or working around a blast furnace, as well as other clothes that require high heat-resistance. Additional markets include clothing for children and the elderly, household applications such as aprons, futon covers and curtains and carpets. Other uses include binding tape for auto engines, clamps and fasteners for use in airplanes and spacecraft, fastenings for fire shutters and for materials used in building interiors and home electronics.
*

The LOI value is the limiting oxygen index value. This value expresses the minimum concentration of oxygen that is required to maintain flaming combustion of a material. Material that continues burning in the oxygen density of the atmosphere (approximately 20%) has a LOI value of 19-21.