On January 18, 2007, Kuraray held a kick-off event for its Fourth Sending Randoseru (School Bags) Across the Sea Campaign 2007 at the OO Square, located on the first floor of the Marunouchi OAZO building near Tokyo Station.
School bags usually come to the end of their useful lives-and tend to be consigned to closets, though still in good condition-after six years of "scholarly" endeavors during children's elementary school days. Thus, Kuraray started the Sending School Bags Across the Sea Campaign, where disused school bags are given renewed lives by filling them with stationery and other school supplies and sending them to underprivileged children overseas.
Celebrities who support the campaign and who participated in the event as the Across the Sea Cheering Group related to the audience their fond memories of school bags. Also at the venue was an exhibition of photos taken by professional photographer Takeshi Uchibori, who visited Afghanistan in 2005 to capture on-site scenes from this campaign.
Kuraray invited 20 children who are going to enter elementary school this April and their parents to the school bag presentation ceremony. Parents and children also enjoyed a photo session with members of the Across the Sea Cheering Group.
Celebrities at the Event (Members of the Across the Sea Cheering Group)

Ken Maeda (entertainer)
Hirokatsu Kinoshita and Jaguar Yokota (husband [medical doctor] and wife [professional wrestler])
Eriko Sato (actress, entertainer)
Takeshi Uchibori (Photographer)
Honorable Guests

Kenshiro Matsunami, Member of the House of Representatives, Deputy Secretary-General of the Liberal Democratic Party of Japan, Chairman of the Japan-Afghanistan Association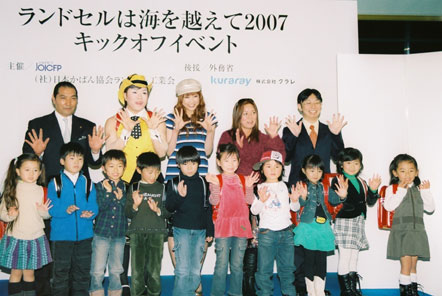 Back row, from left Mr. Matsunami, Mr. Maeda, Ms. Sato, Ms. Jaguar Yokota and Mr. Kinoshita
Front row Children invited to the event
Information about the Sending School Bags Across the Sea Campaign

Hosted by
Japanese Organization for International Cooperation in Family Planning (JOICFP)
Randoseru Industry Association, Japan Luggage Association
Sponsored by
Ministry of Foreign Affairs of Japan
Kuraray Co., Ltd.